I don't really like my nose–it's a bit big. It is a Saretsky landmark, that's for sure. But when I was growing up, all I wanted was one of those sweet little ski jumps that all my classmates had. I have a feeling it was all my fault. Call me Pinocchio.
When I was little, I told one little lie–the only lie I can remember telling to date. I was eating my favorite Chessmen cookies, and I told my dad that I had only had one, when I actually had three. Actually, come to think of it, this is probably the first my dad has heard of this!
I love cookies–they are one of the few things I would lie for. In this week's French in a Flash on Serious Eats, I get inspired but all the buttery cookies I'm devouring here in Provence. I flavor crumbly, salty-sweet shortbread with South-of-France tisane staples lemon and lemon verbena. The result is unusual, clean, comforting, and irresistible. Definitely worth a bigger nose. As always, click here for the full story and recipe!
Tisane Shortbread Cookies with Lemon Verbena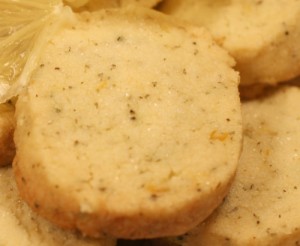 Ingredients


2 sticks butter, room temperature


3/4 cup sugar, plus extra for sprinkling


Zest of 2 lemons


2 cups flour


1/2 teaspoon salt


1 heaping tablespoon finely ground verbena (3 tea bags)


Procedure


In a stand mixer fitted with the paddle attachment, cream together the butter, sugar, and lemon zest until just combined.


Separate the dough into two parts, and place each half on a large sheet of plastic wrap. Roll the dough into two logs about 2 inches in diameter and wrap in plastic. Refrigerate until cold throughout, about an hour.


Preheat the oven to 350°F. Take the dough out of the fridge.


After the dough has sat out for about 10 minutes, carefully cut the dough into 1/2-inch thick discs, trying not to crumble the dough. Lay the discs onto a baking sheet. Sprinkle lightly with a dusting of sugar to form a sparkling, firm crust on the top of each cookie. Bake for about 20 minutes, until golden and firm. Allow to stand for a few minutes, until they are firm enough to move. Remove to a wire rack to cool, and serve with tea.


print this recipe