As featured in FrenchEntrée's 100 French recipes to celebrate 100 issues of FrenchEntrée magazine
Orange Flower Crème Brûlée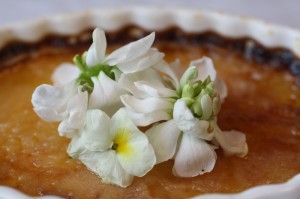 Ingredients
2 cups heavy cream
4 egg yolks
1/3 cup sugar, plus extra
1 scant teaspoon Grand Marnier or Triple Sec
1 tablespoon orange flower water
Zest of ½ orange
Procedure
Heat the cream over a medium flame until it is hot, but not boiling. Preheat the oven to 300 degrees F, and bring a kettle to boil.
Meanwhile, cream together the egg yolks and sugar in a stand mixer fitted with the whisk attachment on medium speed until the sugar dissolves and the yolks are pale.
Add the orange liqueur, orange flower water, and orange zest to the yolk-sugar mixture. With the mixer on low, slowly stream in the hot cream.
Pour the crème brûlée mixture into 4-6 ramekins, and place into a baking dish. Pour the boiling water from the kettle around the ramekins in the baking dish, so the water comes halfway up the sides of the ramekins. Bake for 35-40 minutes.
Allow the crème brûlée to cool in the water bath, then refrigerate for at least 4 hours.
Preheat the broiler, or find your crème brûlée torch. Then, sprinkle the top of each crème brûlée with a layer of sugar, about 1 teaspoon per ramekin, and crisp the top until the sugar just bubbles and browns. Under my broiler, this takes about 8 minutes, but you want to be vigilant. Garnish with a candied slice of orange (recipe follows), a piece of candied orange peel, and/or some edible flowers.
print this recipe