I admit, I didn't buy my Mother's Day cards until Friday–and I don't even have to ask maman or Meme if they've received them, because I know they haven't. But, I do think I got them both a pretty good present.
A few week's ago, the lovely Sophia Brittan of the online cooking show Kitchen Caravan asked me if I'd like to do a show for the site. I could not have been more excited, as it was to be my very first filmed cooking show. For the theme, we decided on Mother's Day: a fusion of Meme's Moroccan and maman's French, for the perfect Mother's Day menu. The idea behind these recipes is to learn, and to remember, and to reinvent the classic dishes that every family has, that have been in that family for decades or even centuries. Meme has been making this Moroccan salmon her whole life, and taught me a version of it when I was ten–but every woman in my family has her own version, and this is mine. I have added my own touches: replacing olive oil with dry French white wine in the salmon, adding a flash of hot harissa to the Olive Ratatouille. For maman's famous creme brulee, I've added a dash of Morocco in the form of sweet, fragrant orange flower water. And for my own modern take on Meme's requisite pure Moroccan mint tea, I've sweetened and spiked until I came up with the perfect Mint Tea Martini.
These recipes are dedicated to the two woman who not only taught me how to cook, but what to cook. Food is legacy, and heritage, and like blood and genes, it should always course from one generation to the next.
Happy Mother's Day! I hope you make these recipes for your mom today, or better yet, reinvent one of her old recipes and impress her today.
The recipes and videos are reproduced here, but can also been found, along with some tasty tips, at Kitchen Caravan
Mémé's Moroccan Salmon
Orange Flower Crème Brûlée
Mémé's Moroccan Salmon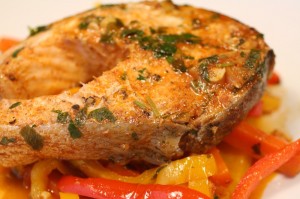 Ingredients


6 carrots, cut into sticks


1 orange bell pepper, cut into sticks


1 yellow bell pepper, cut into sticks


1 red bell pepper, cut into sticks


4 bone-in, skin-on salmon steaks, totaling about 2 ¼ pounds in weight


Salt and freshly cracked black pepper


1/3 cup olive oil, plus 1 tablespoon


1 tablespoon paprika


4 cloves garlic, roughly chopped


¼ cup roughly chopped fresh flat leaf parsley


1 preserved lemon, chopped (use two if you really want to enhance this flavor)


¼ cup dry white wine


Procedure
Bring a pot of water to a boil, and salt it. Place the carrot sticks into the water to blanch. After 2 minutes, add the peppers. 2 minutes later (4 minutes will have passed since you added the carrots), drain the vegetables, and set aside.
Season the salmon steaks on both sides with salt and pepper. In a large bowl, combine 1/3 cup olive oil with the paprika. Toss the salmon in the seasoned oil to coat.
Now that you are rid of the vegetable blanching water, you can use the same pot—preferably wide, with high sides. Add the remaining 1 tablespoon of olive oil, and set the pot over medium heat. Add the carrots and peppers back in, along with half the garlic, parsley, and preserved lemon. Season with salt and pepper, and toss. Add the white wine.
Nest the salmon steaks down into the vegetables, and pour the remaining paprika oil over the steaks in the pot. Top the steaks with the remaining garlic, parsley, and preserved lemon.
Lower the heat to low, cover the pot, and allow to simmer for 30 minutes, basting occasionally, and rotating the vegetables around the pot.
Serve with warm baguette.
print this recipe