Did you know that in the late 1980s French version of The Little Mermaid, Ariel didn't wear her seashell bikini top? Maman used the film to increase my French fluency, but I was so prudish and scarred that I didn't speak another mot in French for ages.
In this week's French in a Flash on Serious Eats, I discuss the nuances in French food language that create the ambiance around the dish. Chaussons aux Pommes are simply Apple Turnovers, but in French, they translate to Apple Slippers, a term as warming and evocative as the gooey apple-pie filling that oozes out from the crumbling, buttery puff pastry at every bitten opportunity. Served with cool cinnamon creme fraiche, this dish is all about mouth appeal: in language, and in taste. As always, click here for the full story and recipe.
Chaussons aux Pommes with Cinnamon Crème Fraîche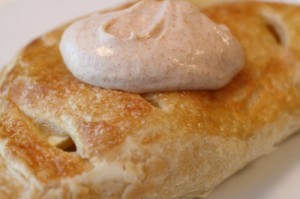 Ingredients for the Chaussons


3 Golden Delicious apples


3 tablespoons sugar, plus extra for sprinkling


1 tablespoon flour


Pinch of salt


The juice of 1/4 lemon


4 sheets of frozen puff pastry, thawed but cold (from 2 boxes, preferably pure butter)


1 egg, beaten for an egg wash


Ingredients for the Cinnamon Crème Fraîche


1/2 teaspoon cinnamon


3 tablespoons powdered sugar


1/2 cup crème fraîche


Procedure for the Chaussons


Preheat the oven to 400 degrees.


Peel and core the apples, and slice them into 1/2-inch slices. Toss with the 3 tablespoons sugar, 1 tablespoon flour, a pinch of salt, and the juice of 1/4 lemon.


Roll out the puff pastry, using bench flour to prevent sticking, so that you can cut 2 circles the size of tea saucers out of opposite corners of each sheet of puff pastry: you will have 8 circles in all.


Transfer the chaussons to 2 baking sheets, and bake for 20 minutes. The pastry will be golden, buttery, and flakey, and the apples will be gooey, oozing, and sweet. Serve warm with cold cinnamon crème fraîche (recipe follows).


Procedure for the Cinnamon Crème Fraîche


Stir everything together, and chill.


print this recipe