Mr. English says I make vegetables sexy; that I turn them from limp, lifeless little beings to foods that are exciting, and excited. So, it's no surprise that in this week's French in a Flash on Serious Eats, I am offering a menage a trois of asparagus.
When I was fifteen, I spent the summer in France, with a family that thought my vegetarianism was as foreign as my language and my politics. But when I learned what the French could do with vegetables, and when the French saw how this little American girl could appreciate them, we struck an Entente Cordiale. This salad began with my introduction to the succulent and sweet white asparagus, which I marry with pencil and green or purple stalks, coupled with an aioli sauce flavored with fines herbes (tarragon, chives, parsley, chervil).
Aioli was a sauce of which I'd always heard, but of which I never knew the origins. When I was in Provence (see the Papiers Provence here to follow my trip), I learned finally that the fresh garlic mayonnaise is actually a traditional Provencal sauce, and is often served in a dish also known as aioli, in which fish, vegetables, potatoes, and egg are served boiled and accompanied by the pungent, creamy dip.
This dish is far more simple, but I think more lovely and more delicate. Served chilled with a wedge of lime, this is the perfect spring-summer salad.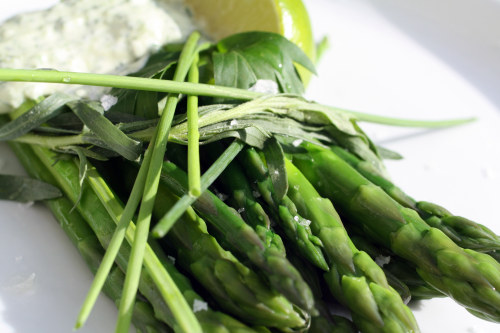 Chilled Asparagus with Fines Herbes Aïoli
serves 4 to 6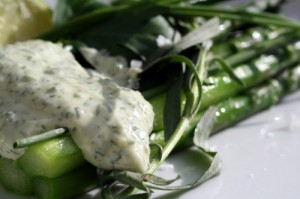 Ingredients


A total of 2 pounds of asparagus, including white, purple, thick, and pencil


2 cloves garlic


2 tablespoons flat leaf parsley


2 tablespoons chives


2 tablespoons tarragon


2 tablespoons chervil


Zest of 1 lemon


Juice of 1/2 lemon


1 cup mayonnaise


Salt and pepper


Lime wedges


A Note about Aïoli
Aïoli is a Provençal sauce made from garlic, egg yolks, olive oil, and lemon. It is, in its most iconic state, served in the dish also known as aïoli, which is boiled vegetables, fish, and egg, all served with the sauce. It is, and remains, all about t
Procedure


Peel the stalks of any thick asparagus, and all the white asparagus.


Bring a pot of water to boil, and salt it well. Blanch each type of asparagus separately. Pencil takes 30 seconds, thicker takes about 60 seconds, white 60-90 seconds. Immediately shock each bundle in ice water until completely cold.


Make the aïoli by whirling together the garlic and the herbs, lemon zest and juice, and salt and pepper in a food processor. Then add the mayonnaise, and blend until it is a smooth sauce flecked with tiny bits of green.


Serve the chilled asparagus with the aïoli sauce, and squeeze wedges of lime over the entire dish. Finish with flaked sea salt or fleur de sel.


print this recipe