As we are in Provence, I thought this week's French in a Flash on Serious Eats should be reflective of the times. I have had some mediocre Nicoise pissaladiere over the last few days, but as far as street foods go, it is such a brilliant, local concoction, and I love it so much even at its lowliest form, that I wanted to try my hand at renovating it. Pissaladiere is a rectangular tart from the south of France, with a "sauce" of sweet sauted onions, laced with anchovy filets and studded with black olives. My version begins with a bought whole wheat pizza dough. I top it with the requisite onions, then decorate it with toasted, buttery pine nuts, melting pockets of fresh goat cheese, black olive studs, tapenade quenelles, anchovy filets, caper berries, and stems of fresh thyme. It can be eaten hot or cold, and is fragrant, satisfying, and beautiful. As always, the whole story and recipe can be found here. Bon app!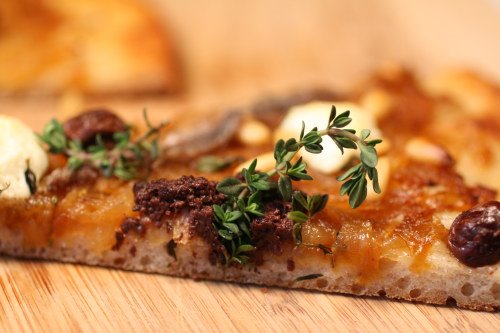 Whole Wheat Pissaladière Pizza With Tapenade, Pine Nuts, Goat Cheese
serves 4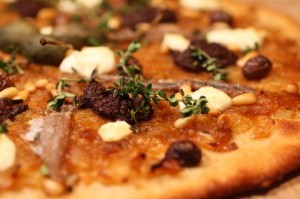 Ingredients


3 onions, sliced thinly into half moons


2 tablespoons olive oil, plus 1 tablespoon


Salt and pepper


1 12-ounce ball of pizza dough, preferably half white, half whole wheat flour


Corn meal


Flour


2 tablespoons tapenade


8 anchovy filets in olive oil


1 tablespoon toasted pine nuts


15 Niçoise olives


2 ounces chèvre, or fresh goat cheese


3 caper berries


3 stems fresh thyme, plus more for garnish


A Note on some Ingredients
As for the pizza dough, please feel free to use all-white or all-wheat. I think the wheat works especially well, but for French in a Flash, it really is all about what is easy and accessible for you.
Procedure


In a large sauté pan, add the onions to 2 tablespoons of olive oil, sitting over medium-low heat. Season with salt and pepper, and sauté slowly for 45 minutes, until the onions are soft and jammy. Be sure to stir them often, and lower the heat if they burn too quickly.


Meanwhile, dust the bottom of the pizza dough with just a touch of corn meal, to keep it from sticking. Dust the top of the dough and your rolling pin with a bit of flour for the same reason. You could just use flour for both purposes to keep it simple. Roll the dough out into a 15-inch round, and sit it on a nonstick cookie sheet or pizza pan. Brush the dough with the remaining tablespoon of olive oil, and season with salt and pepper.


Preheat the oven to 450°F.


When the onions have finished cooking, spread them out over the pizza dough as you would if you were using tomato sauce. Spoon 8 little quenelles (or mounds) of the tapenade around the middle of the pizza in a wide circle. Alternate the tapenade hills with anchovy valleys, laying an anchovy like a sunray between each mound of olive paste. Scatter the pine nuts all over the pissaladière, then olives. Divide the chèvre into little bits and scatter those all over as well. Place the 3 caper berries in the center of the pissaladière, and scatter fresh thyme leaves over the entire pizza.


Bake the pissaladière for 15 minutes. Then garnish with extra sprigs of fresh thyme, and maybe a slight drizzle of fresh extra virgin olive oil. Serve warm, or at room temperature.


print this recipe