Get the whole story at Serious Eats.
Easy Crème Fraîche Baked Mac and Cheese with Zucchini and Thyme
serves 4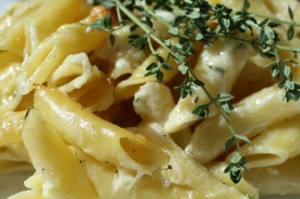 Ingredients


1 pound mostaccioli or ziti


1/2 cup grated fontina


1 cup crème fraîche


1/2 cup grated zucchini (1/2 zucchini)


1/2 cup grated Gruyère


1/2 cup grated sharp white cheddar


1/2 grated Parmesan


1 teaspoon fresh thyme leaves, plus more for garnish


Salt and pepper


Procedure
Preheat the oven to 375°F.
Bring a large pot of water to boil, and salt it well. Boil the pasta until just shy of al dente.
Meanwhile, in a large bowl, mix together the crème fraîche, zucchini, all of the fontina, Gruyère, and cheddar, and half the Parmesan. Add the thyme, and season with salt and pepper. Stir until it is all perfectly combined.
Drain the pasta, and toss well with the crème fraîche and cheese mixture. Decant into a buttered baking dish, and sprinkle the top with the remaining Parmesan. Bake for 25-30 minutes, until the top is golden. Let stand 5 minutes before serving, and garnish with some fresh thyme.
print this recipe