Get the whole story at Serious Eats.
Sweet Spring Peas with Shallots, Mint, and Crème Fraîche
serves 4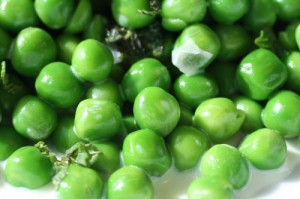 Ingredients


1 pound frozen spring peas


1/2 large shallot, minced


2 teaspoons unsalted butter


1/4 cup crème fraîche


1 tablespoon chiffonade of fresh mint leaves, plus more for garnish


Procedure
Bring a pot of water to a boil, and salt it well. Add the peas, and blanch for 2 minutes. Drain, and shock in ice water.
Meanwhile, sauté the shallot in the butter on medium-low heat in a wide sauté pan. Season with salt and pepper, and sauté just until the shallot is soft and translucent.
Add the peas to the butter and shallot, and heat through, allowing all excess water to evaporate. Turn off the heat, and add the crème fraîche and mint. Serve!
print this recipe