I learn more about life in cooking school in Paris than I do about cooking. But then, life is a lot like cooking, isn't it? You toss a bunch of different things together, close your eyes, and hope it all comes out alright. This week's French in a Flash is for Serious Eats is all about the little lessons on love and on life that I have garnered from the French chefs here in Paris, which they disguise as advice on how to poach an egg, or how to roast a chicken.
The recipe is Pistoued Lamb Brochettes with Bay Leaves and Seared Olives. They are fit for the summer grill; tender lamb is robed in a fresh summer pistou of mint and basil, skewered onto kebabs, and left to cook in the smoke of charring fresh bay leaves. It's unexpected, but just right. As always, click here for the full story and recipe. Bon app!
Pistoued Lamb Brochettes With Bay Leaves And Seared Olives
serves 4 to 6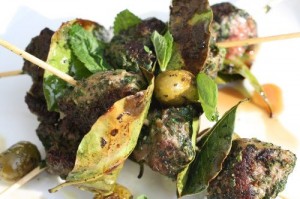 Ingredients


1 clove garlic


1 cup basil leaves


3/4 cup mint leaves


1/2 cup parsley leaves


5 tablespoons olive oil


Salt and pepper


1 2-pound leg of lamb, deboned, trimmed, and cut into 1-1 1/2-inch cubes


32 fresh bay leaves


A handful of large, pit-in green olives


2 limes, cut into wedges


6-8 soaked bamboo skewers


Procedure


Create the herb pistou by whirling the garlic clove through the food processor. Pulse in the herbs. Season with salt and pepper, then stream in the olive oil. Toss the pistou with the lamb in a bowl, cover, and refrigerate for 2 hours.


Meanwhile, soak 8 bamboo skewers in water to prevent them from burning.


Make the skewers by starting with one cube of lamb. Then stack 2 fresh bay leaves, another cube of lamb, 2 more bay leaves, and then a third and last cube of lamb. Prepare all the brochettes this way.


Heat a large grill or sauté pan over medium-high to high heat. Working in batches, sear the brochettes for 5-6 minutes on each side. Throw a few olives in with each batch, and flip them around every so often as they char.


Serve hot or at room temperature with the olives and freshly torn mint leaves and lime wedges.


print this recipe