A wedding registry is always brimming with items to equip a kitchen like a well-stocked fortress. A cherry-pitter, just in case cherry pits happen. (Full disclosure: I have one!) But with my friend Lauren, who is getting married tomorrow, I wanted to give her something to do with all those knives and food processors. So, I made her a recipe: Sliced Steak with Chunky Two-Olive Tapenade.
This week's French in a Flash on Serious Eats gives a glimpse into our lives at Princeton, and the eating clubs that sat us down to dinner together. I think this food might be a bit better though… As always, click here for the whole story!
Bon app!
Sliced Steak with Two-Olive Tapenade
serves 2 to 4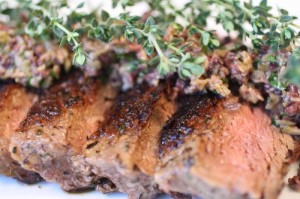 Steak Ingredients


2 12-ounce New York strip steaks


2 tablespoons olive oil


Salt and pepper


Herbes de Provence


Steak Procedure


Season the steaks with the olive oil, and a liberal amount of salt, pepper, and herbes de Provence.  Heat a heavy-bottomed skillet over medium to medium-high heat.  Sear the steaks 6-7 minutes per side, then allow to rest for 10 minutes.  Slice, and serve with the two-olive tapenade.


Tapenade Ingredients


1 clove garlic


2 cups mixed pitted nicoise and picholine olives


The leaves from 5 stems of fresh thyme


½ tablespoon anchovy paste


1 tablespoon fresh flat leaf parsley


1 1/2 tablespoons capers


1 teaspoon Dijon mustard


Juice of ½ lemon


¼ cup olive oil


Salt and pepper


Procedure


Demolish the garlic clove in the food processor.  Then add in all the rest of the ingredients and pulse until you are left with an olive rubble.  Spoon over the hot sliced steak, and serve extra on the side with baguette.


print this recipe