When I was growing up, Meme would sing me this lullaby about how the fish swim in the sea, and the birds fly through the air. But when I bought Rusty, my goldfish, in college, I learned that with the help of some planes, trains, and automobiles, fish can travel however they like.
For this week's French in a Flash on Serious Eats, I write about Rusty's bravery, and the late-learned lesson that just because you're a fish doesn't mean you have to just stay in the water. The recipe is trout en papillotte, a whole trout, stuffed with woody herbs and citrus and butter, and roasted in a packet made of parchment that, if you're hungry, is just as fun to tear open as a birthday present. Click here, as always, for the full story and recipe. Bon app!
Trout en Papillote
serves 2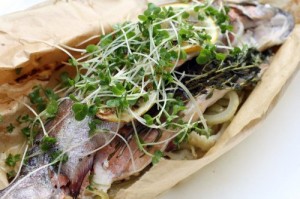 Ingredients


2 butterflied whole trout


1 teaspoon olive oil, plus extra for drizzling


1 fennel bulb, thinly sliced


2 teaspoons butter


6 sprigs thyme


6 sprigs rosemary


4 slices lemon, plus extra lemon juice for drizzling


A handful of watercress or pea shoots


Salt and pepper


Two large rectangles of parchment paper


Procedure


Preheat the oven to 400 degrees F.


Rub the trout outside and in with olive oil to coat. The more thoroughly you do this, the less likely the fish will be to stick to the parchment. Season them each inside and out with salt and pepper.


Open the trout up like a book, and stick 3 thyme and 3 rosemary bookmarks in the center. Add in 1 teaspoon of butter for good measure. Close the book--your place is saved for later. Place two slices of lemon on top of each trout.


Prepare the packages by tossing the fennel with 1 teaspoon of olive oil, salt, and pepper. Divide in half, and place a small mound in the middle of each sheet of parchment. Lay a trout on top of each fennel mountain. Then seal the package. Bring the edges of parchment parallel to the length of the fish up, and fold and fold and fold again until the fold rests sealed against the fish. Then folds the ends up like a Christmas gift, and fold under. All the folds will seal in the steam and the flavor.


Bake the trout for 15 minutes.


Meanwhile, toss the watercress or pea shoots with a touch of olive oil, salt, pepper, and lemon juice. When the packages come out of the oven, cut them open at the table, and top with a bit of greenery.


print this recipe