You may remember that recently I entered my little savory crustless quiches with fines herbes and chevre into the Eggland's Best blogger recipe contest.
The night of the dinner to announce the winner, I was sitting rather nervously munching down grapes, waiting for the big reveal. The French-speaking man at Eggland's Best began introducing the winning recipe.
"This recipe," he boomed across the room, "comes from 1789." He smiled towards me. I felt my heart sink. My recipe hadn't come from 1789. But a historical recipe; how fascinating!
Then I looked up. He was still looking at me, and his smile turned to confusion. He began to look like he was wondering whether or not I was crazy. Then, whether or not I was stupid. I kicked myself under the table. 1789! The French Revolution! I jumped up, shaking and embarrassed. Me and my little quiches had won!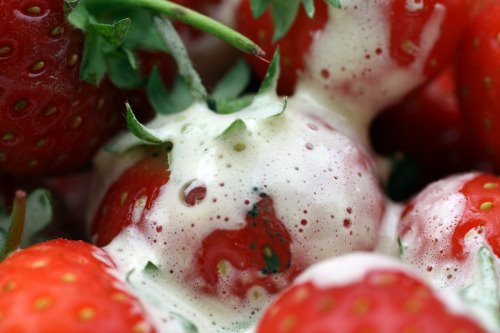 Today is Bastille Day here in Paris. A cause for celebration, especially here on French Revolution. Eggland's Best has invited me to be this month's guest contributor. I write about the black and white toile wallpaper in my bathroom at maman's house, and about the little French peasant characters I have named that have stood, for better or worse, silent on the walls of my bathroom for nearly a decade. Marie-Louise, as I call her, has a basket of eggs in her hand, and is surrounded by a little knots of gabbling toile ducks and chickens, just outside her straw-roofed house that hiccups sweet smoke from the pipe chimney.
What I write about in this guest post is how the egg can be so many things, an ultimate Proteus of French cuisine. "My first recipe for Eggland's Best, Mini Crustless Quiches with Fines Herbes and Chèvre, comes straight from Marie-Louise's pot-bellied stove: rustic, hearty, wholesome, like sunshine. The second, Garden Strawberries with Champagne Sabayon, comes from the Manor House up the hill: refined, delicate, elegant, like moonlight." I hope you will try the Strawberries with Champagne Sabayon recipe, not only because it's delicious, but also because it is the perfect illustration of the tenets I set about when I started this blog: that French food can be elegant and luscious and honest, but so simple to make. And after all the hours I've been spending in a French cooking school, learning the ancien regime, I could use a friendly reminder of the culinary revolution today as well.
And there is no better way to celebrate Bastille Day than with champagne, nor France in the summertime than with strawberries.
Strawberries with Champagne Sabayon
serves 8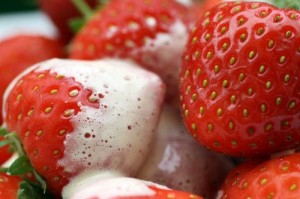 Ingredients


4 Eggland's Best egg yolks


1/4 cup sugar


Pinch of salt


3 tablespoons champagne


2 pints fresh strawberries


Procedure


In a large bowl, beat together the egg yolks, sugar, and salt with a hand mixer for about 1 minute, until the mixture becomes pale yellow.


Set the mixture in its bowl over a pot of simmering water, careful that only the steam and not the water itself makes contact with the bowl.  Continue mixing with the hand mixer for 4 minutes.  The mixture should double in volume.


Add the champagne, and mix another 2 minutes.  Spoon over the berries.


print this recipe