In love, a man whispers sweet nothings into a girl's ear. In food, I like to fry up some sweet nothings to crackle into my man's mouth.
This week's French in a Flash over on Serious Eats is Citrus Oreillettes. Oreillettes are deep fried shards of pastry, snowballed in powdered sugar. They are light as air, but I still managed to eat my weight in them in Provence this past spring. For my easy, renovated version, I fry wonton skins for just seconds, and then toss them around in a brown paper bag filled with powdered sugar, a pinch of salt, and the colorful confetti zests of lemon, lime, and orange. I'd like to say that I've learnt restraint over the summer, but, I can't. The four of us finished the entire batch watching late night TV in bed. And so I fell asleep on a cloud of powdered sugar. Very sweet dreams.
Some of my column readers have commented that they want to try cinnamon or savory versions with cumin or paprika or chili. You could even try Parmesan or fresh vanilla. Let me know what you come up with…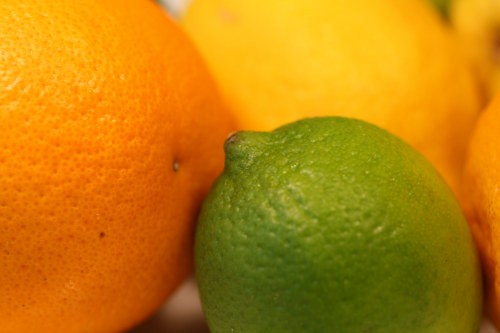 For the full story and recipe, click here. Bon app!
Citrus Oreillettes
serves a crowd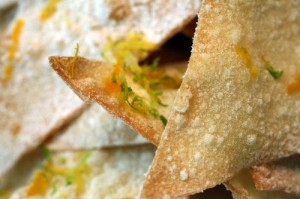 Ingredients


Vegetable oil for frying


1 cup powdered sugar


The zest of 1 orange, 1 lemon, and 1 lime


Pinch of salt


24 wonton wrappers (about half a pack)


Procedure


Heat about 1 to 2 inches of vegetable oil in a cast iron skillet, or saucepan, to 325°F.


Cut the wonton wrappers into triangles by slicing them in half across the diagonal. Fry a few of them at a time, about 4 or 5 depending on the size of your pan, for about 10 to 20 seconds per side, until they are just turning golden. They will harden and even darken a touch when you remove them to a paper towel to drain.


Pile up the oreillettes on a plate, and top with more freshly grated orange, lemon, and lime zest. Serve with tea or aperitifs in the afternoon.


print this recipe