I remember the first time I was drunk very clearly. Which is, from what I have seen of drunkenness ever since, quite a feat. I was three.
I was, of course, with the famille. My cousin Patricia was having a great big wedding, and we'd flown across the Atlantic just to be there. It was the first time I'd ever been to Europe, and we stayed the whole summer.
I remember many things from that summer. Buying strawberry ice cream off the corner, wearing a black and white millerais bathing suit that left a striped tan line, and discovering Coca-Cola in glass bottles for the first time. But the night that stands out most distinctly in my memory was the wedding night. The bride's parents' house was turned into a den of delirium and revelry, with white lights strung from every tree and every beam, and I was perkily sitting by Maman and Mémé and a slew of other distant relatives at a table. I had finished my dinner.
"Maman, what is that!?" I demanded loudly of the garnet colored liquid in her tall, elegant glass. She looked so fabulous in her navy silk and red lipstick, holding the ball of the glass, the stem dangling between her long fingers.
"It's wine" she declared, as though I should have known it all the time.
"Can I have some?"
I don't know if it's the same in all French families, but in ours, wine was never denied. It was only rationed. "You can have just a finger!" She stuck her finger into the glass, and pulled it out again, dripping and dangling tantalizing ribbons of Merlot. I knew this was an occasion. An initiation. I could feel it. I wrapped my lips around her finger, and pulled off the wine. I swallowed.
"What do you think?"
I knew there was only one acceptable answer. "I love it!"
And because I could tell it was forbidden, as soon as Maman turned her head, I stuck my finger back in the glass, and had some more. Then I darted off into the party before she had noticed the difference.
Everything was fine, at first. I felt very grown up. But soon, too soon, I because very, very sleepy. I found a couch, and sat down alone. The white lights hanging from the beams started to sway and blur. The next thing I knew, I was being shaken awake, Maman and Mémé standing over me, concerned. "Kerry, are you alright?"
I was disoriented, and dreamy. The picked me up, and carried me off. I didn't wake up again until the next afternoon. I was sleeping off my first hangover.
I graduated from fingers of wine to glasses of a splash of wine mixed with water, and that's what I do with the pasta in this week's French in a Flash on Serious Eats. I buy an inexpensive bottle of French white table wine, and I boil in the angel hair in it, with some water, to flavor the pasta. I then make a sauce of some of the white wine I'd set aside, sweet, soft, sautéd leeks, and cream. It's so decadent, and really unexpected. Like a drunken Vichyssoise with pasta instead of potato. It makes the perfect side dish to a simple grilled fish. I suppose that if you're young, or you're pasta, being drunk isn't the worst thing in the world after all.
For the Serious Eats post, and recipe, click here!
Drunken Leek Pasta
serves 4 to 6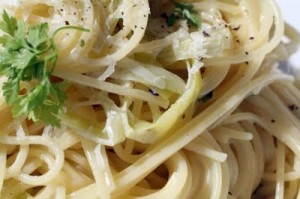 Ingredients


3 small to medium leeks, whites and light greens sliced into julienne


1 tablespoon butter


1/4 cup water, plus extra if needed


1 bottle of white wine, 3/4 cup reserved


1 pound angel hair pasta


1/2 cup heavy cream


1/4 cup grated Parmesan


1 tablespoon chervil, chopped


Salt and freshly cracked black pepper


Procedure


In a wide, preferably nonstick sauté pan, melt the butter in 1/4 cup water on medium-high heat. Add the leeks and cover with a lid, lowering the heat all the way down. Cook until soft and spaghetti-like, about 20 minutes, adding water whenever the pan gets too dry, to avoid burning the leeks, and conversely evaporating off any extra liquid once the leeks are soft and sweet.


Bring a large pot of water to a boil. Add all the wine in the bottle except 3/4 cup, and a handful of coarse salt. Add the angel hair to the boiling water and wine, and cook until al dente, just a few minutes.  Drain.


Heat the remaining wine and cream with the leeks.  Toss with the angel hair, and garnish with Parmesan and chervil.  Serve immediately.


print this recipe