It's Labor Day! And I think this week's French in a Flash is the perfect Franco-American extravagance: lobster rolls inspired by the Parisian restaurant Spring, served with summer staples zucchini frites with basil fleur de sel and heirloom tomato salad.
For me, Labor Day is about picnics, and that means sandwiches. When I was at the Cordon Bleu this summer, I hardly ate a thing. I was on my feet nine or ten hours a day, in the kitchen six days a week. Just looking at the food filled me up, and I was never hungry. It's such a terrible shame, I thought, that I'm in Paris, and I'm not eating a thing.
We had one Saturday off, and my best friend looked me square in the eye. "Kerry," she said, "we're going out and we're eating." She'd heard of a place called Spring across town where every Saturday they served nothing but lobster sandwiches with goose fat fries.
The next noon found us sitting at a wooden table in the tiny storefront of Spring, delicately savoring every bite of our lobster sandwiches. The lobster was served in whole chunks, tossed in a light sauce of mayonnaise and fresh orange zest and juice, in a white-wheat baguette. Celery and chives sprinkled in a touch of verdant freshness. And on the side, crisp, hand cut potatoes fried in goose fat, sprinkled with salt and the confetti zests of lime and orange. It was the best sandwich I ever ate.
So last week, when I saw Florida spiny lobster on sale for $9.99, I had the supermarket steam one up for me (a nice change after my bloody execution of thirty-odd crabs in cooking school), and I came home and tried to recreate the Spring sandwich for summer. I added my own take on it, but it's still si bon. And I like to serve it with the best zucchini and basil and tomatoes summer has on offer before its officially fall.
You work hard for your lobster; this Labor Day, take a day, like we did in Paris, to stop and enjoy it. For the full recipe and story from my column French in a Flash on Serious Eats, click here. Bon app!
Lobster Salad Sandwiches
2 to 4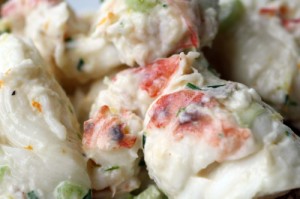 Ingredients


1/4 teaspoon lime juice


1/4 teaspoon lemon juice


1 1/2 teaspoons freshly squeezed orange juice


1/2 teaspoon total of lemon, lime, and orange zests


1 tablespoon mayonnaise


1/4 teaspoon snipped chives


1 tablespoon finely sliced celery


7 ounces lobster meat, cut into very large chunks (about 1 cup total, or the meat from the tail of a 2-pound spiny lobster), steamed and cold


Salt and freshly cracked black pepper


1/4 wheat baguette


Butter, room temperature


Procedure


Preheat the broiler.


In a large bowl, whisk together the citrus juices—which must all be freshly squeezed—the citrus zests, the mayonnaise, chives, and celery. Taste the dressing and season accordingly with salt and pepper, not forgetting that the lobster is slightly salty itself.


Take your steamed lobster tail and cut it into large chunks, about four to six pieces for the whole tail. Leave the claws whole. Gently fold the lobster meat together with the dressing, and set it in the refrigerator.


Cut the wheat baguette in half horizontally almost all the way through to create a hinged sandwich roll. Very lightly butter both sides with soft sweet cream butter. Stick it under the broiler for just a couple of minutes, until it is just lightly golden and a little bit crusty. Most importantly, allow the bread to cool.


When the baguette is back to room temperature, take the lobster salad out of the fridge, and scoop it, brimming, into the bread. Serve it with zucchini frites and an heirloom tomato salad.


print this recipe