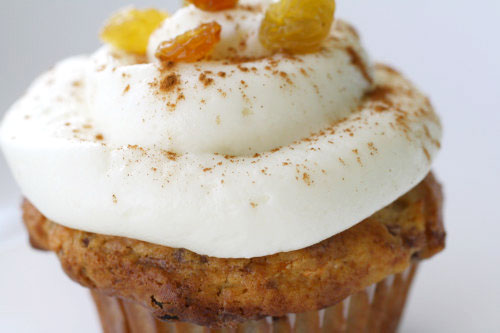 Get the whole story at Serious Eats.
Carrot Muffins with Sweet Chèvre Icing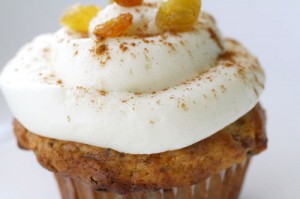 Ingredients


1 box cinnamon muffin mix


3/4 cup whole milk


1/4 cup vegetable oil


2 eggs


1/2 teaspoon cinnamon


1 carrot, shredded


1/3 cup golden raisins


1/4 cup chopped walnuts


1 batch Chèvre-Cream Cheese Icing


4 ounces cream cheese, room temperature


3 ounces chèvre, room temperature


3/4 cup, plus 2 tablespoons powdered sugar


Procedure
Preheat the oven to 425°F. Line a 12-cup muffin tin with 10 paper muffin liners.


Mix all the ingredients together with a wooden spoon in a big bowl. Use an ice cream scoop to spoon out nine or ten muffins into the tins. They will be filled nearly to the top.
Bake for 19 to 22 minutes, until the muffins are puffed and golden.
Allow muffins to cool in the tins for 5 minutes. Remove to a cooling rack to cool completely. Once cool, spread the tops with some Chèvre-Cream Cheese icing, and embellish with a few pieces of chopped walnut, golden raisins, and a shower of cinnamon.
Chèvre-Cream Cheese Icing
Use a hand blender to combine all ingredients until smooth.
print this recipe