Good morning, Revolutionnaires! I have been behind in keeping you up to date on French in a Flash, so I want to tell you about the last two week's recipes on Serious Eats.
Tarragon Chicken is this unfortunate dish that we tried to throw together at the Cordon Bleu. I say tried, because it was the one dish that I don't think one of us finished. It sounds so simple: chicken stewed in a summer-sweet broth of tomatoes and tarragon. And yet, all I remember was being in the kitchen at 9:30 at night deboning both the chicken's thigh and my own thumb. As they say in France, "catastrophe!"
It was a shame, too, because it seemed like such a good idea–so rustic, and filling, but at the same time a bit exotic. We are so used to having our tomatoes with basil, but in France, tomatoes are all about tarragon, and there is that kind of fresh anise sweetness that counters the tomatoes so well. It seemed to me like the perfect summer stew, hearty and steaming, but still fresh as a daisy. So, I decided to never look at my Cordon Bleu recipe for the dish again, and make it my own way. I made it for my aunt and uncle, and along with a devoured mountain of baguette, it was a hit.
Click here for the Tarragon Chicken recipe.
Last week's French in a Flash caused a bit of controversy. September always gets me thinking about back to school, especially since I myself am going back to school. And for me, back to school is all about breakfast and snacks, the two meals I never bother with in the summertime. I wanted these muffins to truly be "in a flash," so they start with boxed cinnamon muffin mix, which is then doctored up with golden raisins, grated carrot, and chopped walnuts. The icing is made from powdered sugar, cream cheese, and, the piece de resistance, goat cheese. It's like licking a finger scraped down the side of a red velvet cake–that cream cheese tang in the sweet frosting–but multiplied and deepened. I think these are a great way to make something which I still consider homemade in just minutes, but I understand some of my readers were fairly disappointed at my use of a boxed mix. I would be happy to hear your opinions, Revolutionnaires! Click here for the Carrot Muffins with Sweet Chevre Icing recipe.
Again, my apologies at having been so remiss. Tons of travel and a new computer have stymied my best intentions.
Tarragon Chicken
serves 4 to 6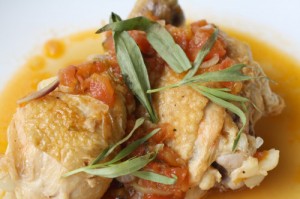 Ingredients


8 vine ripened tomatoes, peeled, seeded, and finely diced


8 chicken legs


8 chicken thighs


2 tablespoons olive oil, plus 1 tablespoon


4 shallots, roughly chopped


2 cloves garlic, smashed


1/3 cup dry vermouth


1/3 cup dry white wine


1 cup low-sodium chicken stock


6 stems tarragon


Procedure


Season the chicken with salt and pepper. In a braising pan, heat 2 tablespoons olive oil over medium-high heat. Sear the chicken, in batches as necessary, until golden-brown all over. Set the chicken aside, and discard the oil.


Add another tablespoon of olive oil to the pan over medium-low heat. Add the shallots and garlic, and sweat just a minute. Add the vermouth and the wine, and simmer to reduce and burn off the alcohol. Add the tomatoes and chicken stock and half the tarragon. Add the chicken back into the pan, and bring the liquid to a boil.


Cover and simmer for 1 hour, until the meat is falling off the bone. Boil uncovered for a few minutes at the end if you want to evaporate off some of the liquid (I like it saucy). Scatter the leaves from the remaining 3 stems of fresh tarragon over the chicken, and serve piping hot.


print this recipe