Get the whole story at Serious Eats.
When I graduated from college in 2005, my mother and stepfather took me on what should have been a dream vacation: Rome, Florence, Tuscany, and Venice.
None of us had ever been to Italy before. As soon as I left Princeton, I threw myself into planning mode with the same pluck and tenacity I had used to survive my thesis and comprehensive exams. I bought two guidebooks and read them both. I watched Molto Mario religiously for two straight weeks. I practiced making risotto. With every final flourish of extra virgin olive oil I felt more and more like Gina Lollobrigida.
That trip was the worst month we ever spent together as a family. We arrived in Rome only to find out that our luggage was lost and our hotel wouldn't let us check into our room for some time. Determined to see the city, we set out on an ambitious tour. A few minutes out, a zealous pigeon released a batch of fowl excrement on what was my only shirt and pants at the time. Not to mention on and somewhat in my mouth.
Florence was hardly better. It reached temperatures that, as a Floridian, I thought only existed in Roman mythology. Marching down to the gelateria, I went for my old favorite: stracciatella. I asked for a cone in idiot-Italian, and was handed a cone stuffed with ten balls of stracciatella ice cream for no less that eleven Euros. I'd been had.
But Venice, how I loved Venice, and by far my greatest discovery in the city was the ink. At night I dragged my two reluctant parents out of the rank and moldy waterfront hotel to a dollhouse piazza with a menu containing no less than three squid ink dishes. I ordered them every night.
Squid ink is thick. Pastas and risotto rices wear it like a dark and briny coat. Though it tastes of sea salt and is distinctly maritime, it's not fishy. It is truly lovely, one of my favorite things to eat, but something quite terrifying to make at home. My first word of comfort: it does wash off your hands!
You can find squid ink in fish shops and it's not very expensive. For my three forays into the dark side, I have made:
Black Clams Casino
Spicy Black Risotto with Calamari
Crab Ravioli with Black Brown Butter and Tarragon
It is not a hard ingredient but certainly commands attention.
Back in Rome at the end of our trip, I sat by the Trevi fountain letting the cool drops of water speckle my arms. I wished upon a tossed penny for a copper-bright future. As I sat, a mouse scrambled up onto my foot. This is a true story. But perhaps squid ink has the same effect on humans as it does on predatory fish–bemused confusion. After Venice, I really didn't give any of the Roman vermin a second thought.
Crab Ravioli with Black Brown Butter and Tarragon
serves 2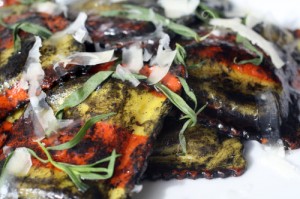 Ingredients


9 ounces crab ravioli (or other seafood stuffed pasta)


3 tablespoons butter


1 4-gram packet of squid ink


Tarragon leaves for garnish


Parmesan to taste


Salt and freshly ground black pepper


Procedure
Cook the ravioli in boiling salted water until they float to the top.  Drain gently.
Meanwhile, in a sauté pan, melt the butter on medium to medium-high heat. Keep cooking it until it first foams, and then begins to take on a golden-brown hue. Take it off the heat to prevent the butter from burning, and stir in the squid ink. Add in the cooked ravioli, and a touch of the ravioli cooking water, salt (go lightly), and pepper, and toss gently. Place in a serving bowl, top with freshly torn tarragon leaves and grated Parmesan, and dive in.
Note
In France, black butter, a kind of burnt butter sauce, was made illegal because of its negative health effects. So I toss crab-filled ravioli with a brown butter sauce stained black with ink. It is delicious topped with ripped shards of fresh tarragon and curls of the best Parmesan cheese. Very Venetian.
print this recipe