Get the whole story at Serious Eats.
Black Clams Casino
serves 4 to start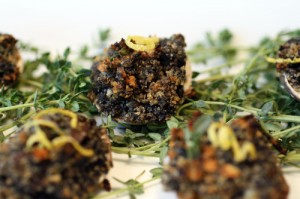 Ingredients


24 little neck clams, shucked, and 12 clam shells


1 thick slice bacon, finely diced


1/2 shallot, finely diced


1 clove of garlic, minced


Salt and pepper


The leaves of 1 stem of thyme


1/4 cup white wine


4 grams squid ink


1/2 cup fresh bread crumbs


1 tablespoon dry bread crumbs


1 tablespoon chopped fresh parsley


Procedure
Preheat the oven to 500°F.
Set the 12 clam shells on a baking tray, and lay 2 clams in each shell. You may want to line the tray with rock salt to keep the shells steady.
Meanwhile, in a small sauté pan, sauté the bacon on medium heat in 1 teaspoon of olive oil. When it has begun to render its fat, but before it is crisp, add the shallots and the garlic, and season with salt and pepper. When the shallots are translucent, turn off the stove, and add in the thyme, white wine, and squid ink. Stir to evenly distribute the ink. Add in the fresh crumbs, dry bread crumbs, parsley, and 1 tablespoon of olive oil. Take the crumbs and pack them into the shells. Drizzle with a touch of extra olive oil.
Bake for 10 minutes, and serve warm.
print this recipe