My Papiers Provence (see link to the right) posts were some of my most popular ever, and my trip to the South continues to inform almost everything I create. I started off my French in a Flash column with Chilean sea bass, seared, and nestled among rock shrimp and mussels in a bouillabaisse broth. But one bouillabaisse dish is hardly enough! I love the richesse of it: the seafood (I almost always do an all-shellfish bouillabaisse), the heady marigold saffron. And the essences of Provence: the fennel and wine and sometimes Pernod. It's a peasant dish gone for gold. So complicated, comprised of nothing but highs and lows–as Mr. English often claims I am! Maybe that's why I love bouillabaisse so much. A kindred spirit.
So for my column this week, I reinvented bouillabaisse yet again. This time, I simmer a broth of white wine, fish fumet, cherry tomatoes, fennel, shallots, garlic, and, of course, saffron. Then I add the shrimp, mussles, and poularde clams, and the finally the crabmeat which gives it that thick texture of bouillabaisse broth. Next, I toss it with wide ribbons of hearty papardelle that I've undercooked, and then allow to bubble away in the steaming bath of bouillbaisse. The pasty goes marigold colored as well, and it's just a really easy and creative way to reinvent the classic. And the sauce takes less time to make than the pasta, with hardly any work besides slicing a fennel and throwing some stuff in a pot. You could add a shot of Pernod, or some fennel fronds or parsley or chervil at the end. But this is the simple fix.
For the whole story and recipe from French in a Flash on Serious Eats, click here. Bon app!
Bouillabaisse Pasta
serves 4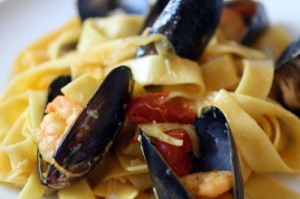 Ingredients


500 grams tagliatelle


1 1/2 tablespoons olive oil


3 cloves garlic, chopped


1 large shallot, finely diced


1/2 small fennel, thinly sliced


1 400-gram can of cherry tomatoes, drained (substitute with 1 can petite-diced tomatoes, drained)


350 grams Poularde clams, or other small clams


500 grams mussels


300 grams large shrimp, peeled and deveined


75 grams crab meat


3/4 cup dry white wine


3/4 fish stock


2 pinches (.3 grams) saffron threads


1 tablespoon butter, cold


Procedure


Cook the pasta in a large pot of boiling salted water just until al dente.  It will cook more in the bouillabaisse broth, so you want to be sure not to overcook it.  Drain.


While the pasta cooks, make the bouillabaisse sauce.  In a high-sided sauté pan, heat the olive oil over medium heat.  Add the garlic, shallots, and fennel, and reduce the heat to medium-low.  Season with salt and pepper, and sweat for 7 minutes until the vegetables are translucent, but uncolored.


Add the drained cherry tomatoes and the wine.  Raise the heat to medium, and simmer the wine until it reduces slightly, about 3 to 4 minutes.


Add the fish stock and the saffron threads.  Bring to a simmer.  Then add the clams, mussels, and shrimp.  Season with salt and pepper, cover, and allow to steam until the clams and mussels open—about 5 minutes.


Shake the cold butter into the hot sauce.  Add in the drained pasta.  Raise the heat to medium-high, and cook so that the pasta absorbs some of the broth, and finishes cooking—about 2 minutes.  Serve immediately.


print this recipe