I know, I've been frying things a lot in my column lately. The squirrels who tumble around Central Park this time of year like fat ladies in fur coats inspire me to eat myself into winter. The good thing about these shrimp rissoles is that if you have tremendous willpower, you can eat just one. I dare you.
These are an unorthodox take on rissoles. I take jumbo shrimp, and coat them with one leaf of citrusy, grassy sorrel. Then I wrap them in sheets of filo dough coated in olive oil, and fry them, or rissoler them, until they are golden and crisp. I make an easy artichoke heart and garlic aioli to wipe them in. The result is a scattering of golden shards of crisp filo when you bite into the rissole, and then the tart tang of the sorrel, and this super-juicy just-cooked shrimp. Then, the pungent garlic and the chunky artichoke. It's so good all together. And the good thing is, it can be made almost entirely from the pantry: shrimp, artichoke hearts, and filo dough from the freezer, mayonnaise, garlic, and olive oil from the fridge and pantry. Make them, and squirrel them away before anyone else can get their bright eyes and bushy tail near them!
You can find the full story and recipe from my column French in a Flash on Serious Eats. Bon app!
Sorrel Shrimp Rissoles with Artichoke Aïoli
serves 4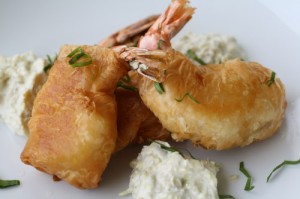 Ingredients for the Shrimp Rissoles


12 8-12 count shrimp, peeled and deveined, tails on


12 sorrel leaves


12 sheets filo dough


Olive oil


Vegetable oil


Salt


Ingredients for the Artichoke Aïoli


1 clove garlic


4.5 ounces thawed frozen artichoke hearts (1/2 packet)


½ cup mayonnaise


Zest and juice ¼ lemon


Procedure for the Shrimp Rissoles


Fill a cast iron skillet halfway up with vegetable oil.  Bring to 330 degrees F.


You will make 4 stacks of filo, 3 sheets thick.  Lay down 2 sheets of filo, brush thoroughly with olive oil, and place the final sheet on top.  Cut into 3 equal strips.  Then season the shrimp with salt.  Place a shrimp on the edge of 1 strip of filo dough, leaving a slight border.  Place the sorrel leaf on the shrimp, and then wrap in the dough, tucking in corners as you go.  Repeat for all 12 shrimp.


Fry the shrimp in 3 batches, 3 minutes per side.  Drain on paper towel, and sprinkle with salt.


Procedure for the Artichoke Aïoli


Pulse the garlic in a mini food processor until it is smashed to smithereens.  Then, add in the artichoke hearts, and pulse to rubble.  Add the mayonnaise and lemon zest and juice, and some salt.  The pulse to a chunky paste.


print this recipe