Get the whole story at Serious Eats.
Salade cuite, or cooked salad, has one of those funny names that doesn't quite translate well in any language. Sounds kind of gross, right?
But salade cuite is one of my family's most traditional, guarded, and beloved recipes. And I assure you, it is not gross. Usually a stew of roasted Cubanelle peppers, garlic, tomatoes, and olive oil, it's served hot, cold, or anywhere in between. Something of a pepper-filled ratatouille, salade cuite is best a day or two later from a jar in the fridge.
At large French-Moroccan family dinners, salade cuite, usually in several incarnations, forms about one-fifth of the requisite salad spread—where most of the salads are, indeed, cooked. In addition to the traditional salade cuitedescribed above, there's an all-green version without the tomatoes and Cubanelles in exchange for a variety of spicy green peppers.
As far as I'm concerned, salade cuite is a marvel. You can make a huge batch without much effort and over the course of the week, serve it warm with hunks of baguette at dinner, at room temperature on the same baguette (now stale, sliced, and toasted into croutes), then hot over lazily seared salmon, and cold on a sandwich with fresh mozzarella and butter lettuce. It goes with everything.
I've kicked this version up a bit both in bite and beauty. The harissa adds a punch; there's a pause when you first bite into the salade cuite, then you swallow and it just starts to burn.
I've also made it a bit more glamorous by using Cubanelles and green, yellow, orange, and red bell peppers. Though disputed in my family, I think this is the best salade cuite ever created. (Just don't tell my grandmother I said that.) The salad gets better the longer it sits, but the harissa also gets hotter, so proceed with caution. Don't forget, the harissa makes this salad red for a reason.
Harissa Salade Cuite
serves 6 to 8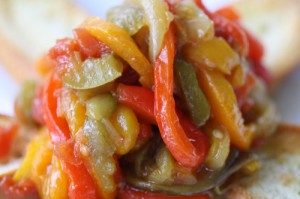 Ingredients


3 cubanelle peppers


1 red bell pepper


1 orange bell pepper


1 yellow bell pepper


1 green bell pepper


¼ cup olive oil


3 cloves garlic, thinly sliced


1 14.5-ounce can "petite diced" tomatoes


1 teaspoon harissa


To Serve


1 baguette, sliced ½-inch thick


Olive oil


Salt


Procedure
Heat the oven to 450 degrees F.
Place the peppers on a baking sheet with a lip lined with a Silpat.  Roast for 40 minutes, turning the peppers every 10 minutes while cooking.
When the peppers are charred, put them in a deep bowl and cover tightly with plastic wrap.  Allow to come to room temperature, then pull off the skin, and remove the seeds and stems from the peppers.
In a sauce pot, heat the olive oil over medium heat, and put the garlic in to poach for a couple of minutes, just to soften but not darken, while you slice the peppers into thin strips.  Add the peppers into the oil, along with the can of tomatoes and the harissa.  Season with salt.
Bring the liquids to a boil, cover, lower the heat, and simmer for 1 hour.
Meanwhile, make the baguette toasts.  Line the baguette slices up on a baking sheet, and drizzle lightly with olive oil, and sprinkle lightly with salt.  Place in a 375 degree F oven to 15 to 20 minutes.
print this recipe