Get the whole story at Serious Eats.
Liquid smoke has long held my fascination, but I was a novice before experimenting with it for this column. My first impressions? It costs only a couple of dollars, can be found near the barbecue sauce, and looks like diluted soy sauce. I found it in hickory and mesquite varieties, and though I used hickory for these recipes, just go wherever your heart takes you.
Kind of like rose water, liquid smoke is more of an essence that hits your nose than a taste that hits your tongue.
Does it provide the same smokiness that actually smoking a piece of meat for hours would? No. But it can free up some time while adding a subtle smokiness to unlikely ingredients that can't otherwise be smoked, like the sour cream in this black bean soup. I think it's a little bottle of untapped genius. Just remember, as with genius, too much liquid smoke is never a good thing. Nobody wants to bite into something that tastes like ash.
My goal with this Black Bean Soup with Smoked Sour Cream was to make a soup that's hearty and wholesome, but also delicate and gourmet. I underpin the smokiness in the sour cream with slices ofsmoked bacon and cumin in the soup, but you could even enhance the smokiness by substituting chipotles for the jalapeno. The texture is velvety-chunky, and to go on top, this cool, creamy, lime-smoked sour cream tastes like it came out of some restaurant's twelve-course tasting menu. And all you did was add a few drops of liquid smoke to a dollop of Daisy.
Black Bean Soup with Smoked Sour Cream
serves 2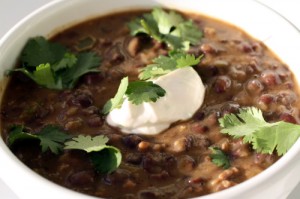 Ingredients


1 teaspoon light olive oil


2 slices center-cut bacon, diced


½ medium onion, diced


½ green bell pepper, diced


1 clove garlic, minced


½ jalapeno, seeded and finely diced


1 teaspoon ground cumin


½ teaspoon ground coriander


1 29-ounce can black beans, drained and rinsed


1 bay leaf


1 quart vegetable stock


¼ cup sour cream


½ tablespoon liquid smoke


Zest of ½ lime


Cilantro


Procedure
Get a big soup pot hot over medium heat.  Add the light olive oil, followed immediately by the bacon.  Sweat the bacon a minute or two to rend its fat, then add the onion, green bell pepper, garlic, and jalapeno.  Sweat for 4 minutes.  Add the cumin and coriander, and sweat for 30 seconds.
Add the beans and bay leaf to the pot.  Add the vegetable stock.  Bring to a boil, and then lower the heat.  Simmer covered for 20 minutes, and then continue to vigorously simmer the soup uncovered for 10 to 20 minutes until you have reached your desired consistency.
Take the pot off the heat, and use an immersion blender to just slightly blend the soup, leaving most of it chunky, but making it slightly thicker and creamier.
Meanwhile, make the smoked sour cream.  Whisk the sour cream together with the liquid smoke and the lime zest.  Dollop on the hot black bean soup, and tear a few cilantro leaves over the top.
print this recipe