Get the whole story at Serious Eats.
My inspiration for experimenting with liquid smoke came from a dish I had in a restaurant once, which is where I get many of my ideas for home cooking. We were traveling in the South of France where many meals involved trout. It's horrible to admit that I got bored of trout, yet I did.
But along came a dish at the bistro in Cap d'Antibes which sounded simple enough: Trout Escabeche. When it arrived at the table, it was two filets of crispy-seared trout, covered in this delicate pepper and fennel escabeche with a smoky foam and a tomato skin crisp as a cracklin'. I awoke from the trout lull, licking the foam from the fork, wondering, "what is that flavor!?"
I can't make foam at home, but I wanted to try a more rustic form of the dish. I used hogfish, a fish local to Florida, and a simple escabeche, which is just an acidic marinade for fish made from fennel, onion, and stoplight peppers, accented with the smoky hint of liquid smoke.
The result is a tender filet with a flavor complexity from the sweetness of the vegetables, the bite from the wine and vinegar, and the depth from the liquid smoke. It's very fresh and bright, and unexpected. As is my goal with all my recipes in this series, everyone will ask, "what is that?"
Smoky Hogfish and Pepper Escabeche
serves 4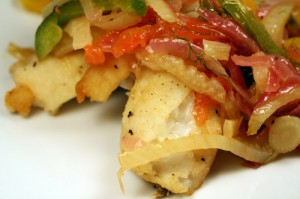 Ingredients


½ red onion, sliced ¼ to ½ inch thick


½ fennel, sliced ¼ to ½ inch thick


½ yellow pepper, sliced ½ inch thick


½ green pepper, sliced ½ inch thick


1 vine ripe tomato, peeled and seeded, and cut into thin slices


2 tablespoons dry white wine


½ teaspoon liquid smoke


2 tablespoons white wine vinegar


2 tablespoons fennel fronds


4 4 to 5 ounce fillets of hog fish, skin on


2 tablespoons flour


2 tablespoons olive oil, plus ¼ cup


Salt and pepper


Procedure
Wipe out the pan, and add ¼ cup olive oil, over medium low heat.  Add the red onion and fennel, and season with salt and pepper.  Sauté 4 minutes.  Add the yellow and green peppers, and sauté 5 minutes.  Add the wine, liquid smoke, and tomatoes, and simmer 1 minute.  Take off the heat, and add the white wine vinegar and fennel fronds.  Let come to room temperature.
Season the fish with salt and pepper on both sides, and dredge in the flour.  Shake off any excess.
Heat 2 tablespoons olive oil in a sauté pan on medium heat until it's hot.  Sear the fish, flesh side down first, for 3 minutes.  Then flip the fish over and sear 1 to 2 minutes.  Depending on the size of your pan, you may need to do this in 2 batches.  Remove to a plate, and pour the escabeche sauce over it.
print this recipe