I'm in Florida, and it's freezing! People roll their eyes, but we Floridians are entirely unequipped for this weather. If I were in New York, and it was thirty degrees, I'd wear a coat, maybe some gloves, but down here, it's a free(zing) for all–I swear I still see t-shirts.
This week's column will warm you up with minimum effort. I fry window panes of garlic to make garlic chips, and then use some of the garlic-infused oil to sweat out some shallots. Add to that some rosemary, and some canned white beans, a bit of stock or water, and 15 to 20 minutes later, you have soup–soup that's rich, velvety, and aromatic of Provence, my summer oasis hallucination in this winter desert. You can easily make this more resolution-worthy by cutting out the butter and cream, although then it'd be less like a bisque, and more like bean soup, but I won't tell…
As always, click here for the full story and recipe from my column French in a Flash on Serious Eats.
White Bean Bisque with Garlic Chips
serves 4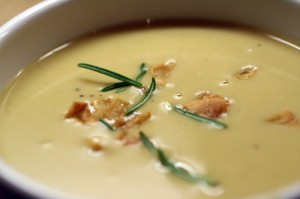 Ingredients


8 cloves of garlic, thinly sliced


olive oil


1 tablespoon butter


1 shallot, sliced


1 sprig rosemary


4 15.5-ounce cans cannellini beans


1 quart vegetable stock, chicken stock, or water


1/2 cup heavy cream


Procedure


In a small saucepot, heat just enough oil to deep fry the garlic chips—about 1/4 cup depending on the size of the pot.  Heat over medium heat.  When hot, add the garlic chips in, and cook until crispy and golden—but not brown and burnt.  Remove the chips to a paper towel with a slotted spoon to cool.  Reserve the oil.


Add 2 tablespoons of the reserved garlic oil and 1 tablespoon of butter to a stock pot over medium heat.  Add the shallot, and sauté gently until just soft—3 minutes.


Drain and rinse the beans, and add them to the pot along with the rosemary sprig (leave the leaves on the stem) and the stock or water.  Season with salt and pepper, raise the heat to high, and bring to a boil.  When the soup boils, reduce the heat to low, cover, and simmer for 15-20 minutes.


After 15 to 20 minutes, remove the rosemary sprig from the soup and discard.  Turn off the heat, and use an immersion blender to puree the soup until smooth.  Stir in the cream—the residual heat of the soup will heat it through.  Serve the garlic chips as a garnish on top.


print this recipe