Get the whole story at Serious Eats.
One of my favorite memories of my trip to Spain a year ago was breakfast. Around the corner from our hotel in Barcelona was a little sandwich shop where, for breakfast, you could order a sandwich of crusty bread toasted and rubbed with garlic and tomato, anointed with olive oil and robed around either queso (Manchego) or ham.
For this sandwich, I take the traditional idea of a grilled cheese and fly it back to Spain, pairing the Spanish cheese of Manchego and the softer, more yielding Campo de Montalban with the famed Serrano ham and membrillo (quince paste) and olive oil. The salinity from the cheeses and ham pair perfectly—no surprise—with that traditional cheese coupling of membrillo, which adds a fruity sweetness that's not too overwhelmingly sugary or watery. In this case, the membrillo acts as a spread, just like mustard in a usual ham and cheese.
Grilled Cheese with Membrillo and Serrano Ham
makes 1 sandwich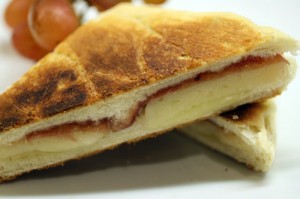 Ingredients


1 4-inch piece of Gallegea bread, or baguette or ciabatta, halved horizontally


1/2 ounce Manchego, thinly sliced


1 1/2 ounces Campo de Montalban, thinly sliced


1/2 tablespoon membrillo, or quince paste


1 to 2 thin slices Serrano ham


Olive oil


Special Equipment
A brick wrapped in foil
Procedure
Heat a griddle or frying pan over medium heat.
Assemble the sandwiches by laying the cheese on one half of the bread, and spreading the membrillo on the other.  Place the ham over the membrillo, and press the two sides together.  Brush the outside lightly with olive oil.
Place the sandwich in the pan, and place the foil-wrapped brick on top of it to weight it down.  Check after about 2 minutes.  Once the side touching the pan is golden and crisp, flip the sandwich over and replace the brick, allowing the other side to brown as well.  You want to keep the heat on medium low, so that the cheese has time to melt while the crust develops.  When the sandwich is ready, cut in half, or into fingers to serve as a cocktail snack.
print this recipe