Get the whole story at Serious Eats.
I love this seafood stew for being both simple and complicated at once. Few of us can achieve that dichotomy without substantial artifice, but this dish stumbles into it without effort. As my Marseilles cousin said to me when I described the recipe, "These are not the mussels of Marseilles." Perhaps not in the traditional sense, but I've taken the essences of Marseilles that inspire me—the seafood, the pastis, the saffron, the garlic—and bubbled them into a light, spicy dish that is both warming and weightless.
The dish takes, from beginning to end, perhaps twenty minutes. The subterranean perfume of anise wafts up from the subtle, but present, pastis and fennel. The floral saffron and hot chilies add further depth of flavor to what is otherwise a simple pot of seafood. The clams leach their signature briny liquor, and add a sweet emphasis and contrast of texture to the quotidian mussels. It's a pot of mussels taken to new Provençal heights. And if you want to make this moules frites, I suggest you try it with sweet potato fries and some good crusty bread. Use the shells to spoon the hot broth into your mouth like a suppertime elixir—it's bright, fresh, and life-giving.
Marseilles-Style Spicy Clams and Mussels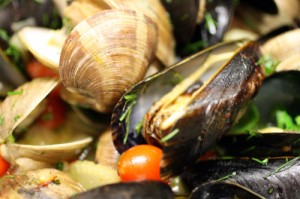 Ingredients


2 tablespoon olive oil


3 shallots, finely diced


4 cloves garlic, sliced


1/4 fennel, thinly sliced


1/4 teaspoon chili flakes


1/2 cup grape tomatoes, halved


1/4 cup Pastis


1/2 cup dry white wine


1/4 teaspoon saffron


1 pound mussels


1 pound little neck clams


1 tablespoon butter, very cold


2 tablespoon fennel fronds, chopped


1 tablespoon chervil, chopped


Procedure


In a wide risotto pan, heat the olive oil over medium to medium-low heat and add the shallots, garlic, fennel, and chili flakes. Sauté until translucent, fragrant, and tender—about 5 minutes.


Add the tomatoes, and sauté another 3 minutes.
 Add the pastis, and reduce.

Add the wine, and reduce.


Add the saffron, the mussels, and the clams, and raise the heat to high. Cover, and steam the seafood until it opens—about 5 minutes. Shake in the cold butter to make the sauce creamy.

Toss in the fennel fronds and chervil and serve immediately.


print this recipe