Get the whole story from Serious Eats.
With weddings, there must be something blue. And with lamb, there must be something sweet. Whether that something is currant jelly or mint sauce, lamb welcomes a contrasting sweet note.
For this recipe, I pair two traditional lamb partners—rosemary and that extra sweetness—with boneless lamb loin chops. For the sweetness, I use the Spanish quince paste membrillo. This recipe is powerful in its simple execution and strong flavors. It brings out the membrillo's subtle sweetness, of honey and apricot, so that eaters utter that Secret Ingredient phrase—"What is that?"
I make a quick glaze from membrillo and rosemary, and then bathe the lamb in it. Broil for minutes on each side, then slice, and serve. Easy, but elegant and unusual. Sweet, earthy, and delicate. You'll never go back to currant jelly again.
Membrillo-Roasted Lamb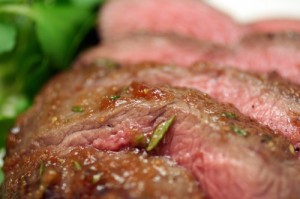 Ingredients


2 tablespoons membrillo


1-2 tablespoons boiling water


1 tablespoon olive oil


1 teaspoon fresh rosemary, chopped


salt and pepper


6 ounces boneless lamb loin chop


Procedure
In a small bowl, whisk together the membrillo, water, olive oil, rosemary, salt and pepper.  The hot water should thin out the membrillo just enough to allow it to glaze the meat.
Coat the meat with the glaze in the bowl, and allow to sit covered in the fridge for an hour or two.
Preheat the broiler.
Place the lamb on a Silpat on a baking sheet, and pour the glaze over it.  Broil 4 minutes per side for medium rare.
Allow the meat to rest for 5 minutes, and then cut into thick slices.
print this recipe