I love lentil soup. No other soup could ever take its place in my heart–not even the alluring scent and oozing hat on classic and decadent French Onion. And the position of the lentil in French cuisine, omnipresent and peasant-hearty, yet refined and delicate, has send me on a several year quest for my perfect lentil soup recipe.
Lentils are served differently in France than they are in the States. Rarely in America do we see lentils in any incarnation other than lentil soup, where in France they are served much as we serve potatoes: a hearty helping next to a seared side of salmon, instead of our standard mashed, or whole in salads, as we might make a potato salad, or add potatoes to bulk up a hearty salad of greens. Lentils are ubiquitous and cheap, but also extremely traditional. So traditional, that France even has its unique lentil variety: du Puy, which are smaller, darker, and resolutely firmer than our standard brown any-old lentil.
In this soup, I have finally found my perfect match, my soul-in-a-bowl mate. I begin with a touch of sweet butter, and a bit of bacon, because rare is the French vegetable soup, ironically, that begins without either. Next, I add both our standard American lentil and the du Puy lentil, a duet that I find enhances and complicates the texture of the soup. The brown lentil softens, and thickens, while the du Puy lentil holds its shape with tenacity after the steady simmer. Shallots, carrots, and celery sweeten and infuse the broth, and above all, earthy, woodsy, resiny thyme give the salt-of-the-earth depth to the whole thing. I can't eat just one bowl. I absolutely lose control. And while most women wouldn't share their loved one, I'm willing to go, as we wink en famille, "à la française."
Click here for my lentil soup recipe.
And here is a catalog of all French in a Flash stories for James Beard Award-winning Serious Eats.
Lentil Soup with Bacon and Thyme
serves 4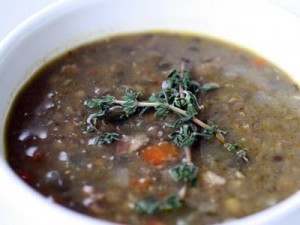 Ingredients


1 tablespoon butter


2 slices thick cut bacon, cut into lardoons (matchsticks)


1 medium carrot, finely diced


1 large shallot, finely diced


1 small celery stalk, finely diced


2 cloves garlic, crushed and whole


5 stems thyme


3/4 cup du Puy lentils


3/4 cup regular lentils


8 cups liquid (water or vegetable stock or a mixture of the two)


Note
Be sure to rinse your lentils, and check for any stones.
Procedure


Melt the butter in a stock pot, and add the bacon. Sauté on medium heat for 4 to 5 minutes.


Add the carrot, shallot, celery, and garlic, and sauté on medium heat for 5 minutes.


Add the lentils, thyme, and stock or water, and bring to a boil. Lower the heat, cover the soup, and simmer for 35 to 45 minutes, or until the lentils are tender.


I like to blend part of the soup to slightly thicken it, but that is up to taste. If so, remove the thyme stems and the whole garlic cloves and discard, and use an immersion blender until desired consistency is reached.


print this recipe