The truth is, I never read nonfiction. Fiction is more truthful. There is always some point in the last third of the book, some sentence, that boils the story down into the syrupy sap of truth, and the book hits a cord that resonates in perfect harmony with my life. I can feel it; I know it. Tears spring to my eyes, and I think, "that's me." My hair stands on end. I'm electrified by the talent and the humanity and the rawness of it. And I have to shake myself out of it. Truly true stories are rarely so truthful as that.
But Elizabeth Bard's Lunch in Paris: A Love Story, with Recipes, was too tempting. A young American in France, telling a love story (always with bawdy potential when it involves the French), WITH recipes? I broke my rule, and I read it.
And immediately, though I never expected it (this is, after all, a memoir), I was hit by the truth. Not like a Mack truck to the head, but like a mirror, placed surreptitiously in my path. So much about Elizabeth was familiar. Her Ivy League education, and her subsequent Odysseus quest to find a career in the morass of her life. In those days that she spent trolling the market, determining which string bean was more delicious, I saw the years I spent after college, writing recipes, selling off little stories, fielding questions from friends of friends screeching, "You still don't have a job!?" and calls from my grandfather demanding, "Why aren't you at the office?" This is my office, Grandpa. And my favorite, when one of my oldest friends told me, "Maybe college was your time, and the working world is mine." It was like in high school, when I was getting straight As and people used to run around the classroom howling "I did better than Kerry Saretsky!" Well, now everyone was howling. Elizabeth, through the pages, was like the only friend I'd ever had who GOT IT.
And her foray into a new country for the man she loved. That I recognized too. The frustration of being an independent, educated New Yorker who could ride the subway from the Bronx to Brooklyn, but couldn't figure out what kind of laundry detergent was appropriate or how to top up an Oyster card or even which cadence to use when reciting a telephone number (Two numbers at a time? Three? All at once without taking a breath?) Although, the beauty and tenderness and awe with which Elizabeth described Gwendal's culture was at times so poignant, and had so deeply penetrated her belief system, that I wished Mr. English was M. Français! I laughed at loud as her mother arrived with suitcases full of stuff "you just can't get in Europe." More like, we just WON'T get in Europe. Or her cravings for a New York pepperoni slice eaten standing up on a street corner. God, I could go for that right now!
But what I found most profound, and most truthful, is that fact that ex-pats live in a middleworld. Elizabeth describes how she wishes she and Gwendal could live on an island in the middle of the Atlantic Ocean, taking the best parts of France (and there are many) and the best parts of the States (there are also many) and get rid of all the riff raff that now, from having lived without of both cultures, suddenly seemed so clear. I will never become English, just as Elizabeth will never become French. We are both deeply and irrevocably American. But suddenly, you also stand apart from your own countrymen. You've been away. Elizabeth missed 9/11. I missed President Obama's election. These parts of the collective country memory suddenly are no longer yours, and you identify a bit less and criticize, or recognize, a bit more. Elizabeth found herself rolling her eyes at Americans on the Métro who bumbled their French or made silly errors, just as I held my breath when I heard two Southerners order iced tea at Bumpkin in London last summer. The waiter stammered, "I don't understand. You want me to brew you some tea, and pour it over ice? Would you prefer Earl Grey or English Breakfast?"
Perhaps it is the exhaustion of being an outsider that makes us cringe. Or the memory of home painfully so far away that requires us to keep our own countrymen abroad at an emotional arm's length. Tired of being tourists to the crowds, and things to be pitied, helped, and babied at home, we force ourselves to grow into our Franco-English doppelgangers. But at the end of the day, you will never live fully in America or fully in France or England again. You will always live somewhere in the middle of the Atlantic Ocean.
Lunch in Paris is not a love story. It is actually not really even about lunch—dinner seems more dominant. It is a story of coming into one's own, a coming of age tale, a bildungsroman as we call it in lit crit. Elizabeth may move to France for love, but she always knew Gwendal would be there. What she least expects to find in France is herself. Amongst the rows of haricots verts, amidst the lonely times when her greatest company is the two fish she found at the market, and in the silent din of a foreign language swarming around her head, she really begins to think about what she really wants, to dig to the base of it, which we all have to do at one time or another. Lunch in Paris is the truth. It is a story of true things: of how hard your twenties are, when you have to find yourself, your husband, your career, all right now, at the very same time, and everyone wants to know about it, thank you very much. How love can be doubted, difficult, and deep in the same nanosecond. In her quest and her questions I found such a kindred spirit that I felt I had known her for years. Bard's book shows that life isn't a one-ingredient recipe, but a delicate balance that, like any good dish, takes years of practice to perfect.
And that is what I loved most about the book: the lack of separation between the recipes and the story. They, like food in our lives, are woven in through thick and thin, weddings and funerals. They are authentic, but also diverse and simple. I appreciated that she made real home recipes, some Moroccan, some light, some from her own Jewish heritage. It is really French home cooking, not French farmhouse cooking. When I finished the book, I set about trying some of her recipes, and created my own little dinner in Paris right at home. I took a few recipes of Elizabeth's, and a few of mine.
I started with my favorite lunch in Paris in honor of the title: chilled Artichoke Vinaigrette, which I eat every time I am there at a little restaurant whose name I never remember in the Place Dauphine. It is light and refreshing, but the mustard in the vinaigrette is as acerbic as French wit. I like that. I usually wind up dunking my baguette in there too.
Next, I made Kir Violette. Elizabeth gives the recipe for Mayur's Champagne Cocktail, a kind of violet Kir Royale and French 75 mix. It reminded me of a cocktail I had in Provence last summer at the Hotel La Jabotte in Antibes, a gorgeous mix of Champagne and crème de violette. When I brought bottles of the violet liqueur to take back with me at Nicolas, the French wine dealer, the man behind the counter smiled and exclaimed, you're going to make some great Kirs with this! And I had never thought of simply adding it to wine and making floral-infused Kirs. So, this recipe is my own, but inspired by Elizabeth, that darling Antibes hotel, and Mr. Merchant at Nicolas. Admittedly, it's not easy to find crème de violette, but if you do, buy a few bottles for good measure.
Then, I turned to Elizabeth's recipes. First, pork spareribs glazed in honey and rosemary. They may be from a Paris bistro, but they reminded me intensely of Provence, where rosemary, more even than lavender, is king. The vinegar gave the ribs themselves a slight tang, but then the honey and rosemary gave such a lightly fragranced sweetness to the meat that I found myself wondering why we always cover up our ribs in barbecue sauce or the glaze they use in Chinese restaurants. These are summer—light and Provençal.
And finally, because who can resist this, molten chocolate cakes. In all honesty, it is something I never make at home. But I am going to now! This recipe was so easy, and so ravishing, that I already have plans to rethink the flavors in a thousand different ways. Next is lavender white chocolate. It ate two right out of the oven. Burns were irrelevant in the face of molten chocolate!
Elizabeth, for the story, for the recipes, for the triumph: bravo.
Kir Violette
1 glass dry white wine, chilled
1 dash of crème de violette
Pour a glass of white wine, and then add the dash of crème de violette, and watch the bluish hue invade the glass.
Oven Roasted Pork Ribs with Honey
Travers de Porc au Miel
(by Elizabeth Bard, from Lunch in Paris: A Love Story, with Recipes)
1/2 cup rosemary honey (or other strong honey)
1/4 cup olive oil
1/4 cup red wine vinegar
1 teaspoon coarse sea salt
2 cloves garlic, lightly crushed with the back of your knife
1 1/2 teaspoons dried rosemary, or a few sprigs of fresh
4 pounds pork spareribs, cut into individual pieces
Whisk together the honey, oil, vinegar, sea salt, and garlic, and dried rosemary (if using).
Place the ribs in a large zipper-lock plastic bag and pour in the marinade. If using fresh rosemary, add the whole sprigs to the bag. Refrigerate for 1 1/2 hours, turning occasionally.
Preheat the oven to 300°F.
Arrange the spareribs in a single layer in a large roasting pan. In a small saucepan, bring the marinade to a boil. Pour it over the ribs and roast in the oven for 2 to 3 hours, turning once or twice. Remove the ribs from the oven and skim a bit of fat from the sauce.
You can let the ribs rest overnight at this point. Reheat them gently in the sauce.
Yield: Serves 4
Kerry's Note: After making these, I discovered several things. First, do marinate them for the whole time. Second, use the fresh rosemary for sure, and bruise it before throwing it into the marinade. Third, I lined a rimmed baking sheet with foil and sprayed it with nonstick cooking spray before I turned out the ribs and sauce to bake. They get very sticky, and it's just really helpful with cleanup. Fourth, you'll probably want to rotate the ribs a bit when they're in the oven, and I found just over two hours to be enough. In fact, there wasn't any sauce left at all: it turned into this fantastic glazy goo. Which is how I like it.
Individual Molten Chocolate Cakes
Moelleux au Chocolat "Kitu"
(by Elizabeth Bard, from Lunch in Paris: A Love Story, with Recipes)
8 tablespoons (1 stick) unsalted butter
5 ounces dark chocolate (70 percent cocoa)
A good pinch of coarse sea salt
2 eggs
2 egg yolks
1/4 cup sugar
1 tablespoon flour
Preheat the oven to 450°F.
Melt the butter and chocolate together in the top of a double boiler or in the microwave. Add sea salt.
Meanwhile, beat together the eggs, egg yolks, and sugar with a whisk or an electric beater until light and slightly foamy.
Add the egg mixture to the warm chocolate; whisk quickly to combine. Add flour and stir just to combine. The batter will be quite thick.
The unmolding is the tricky part of these little cakes; the only foolproof solution I've found is to use Reynolds foil cupcake liners (paper liners don't work; they stick). Use 5 or 6 liners stacked together so they're rigid enough to make a freestanding mold. Make 6 of these molds. (If you can't find the foil baking cups, use small ramekins, generously buttered.)
Divide the batter evenly among the molds. (You can make the cakes in advance to this point and chill them until you're ready to bake. But be sure to bring the batter back to room temperature before baking.)
Baking time will depend on your oven; start with 7 minutes for a thin outer shell with a completely molten interior, 8 minutes for a slightly thick crust and a gooey heart.
Yield: Serves 6
Kerry's Note: I made this with Green & Black's chocolate and it was excellent. I also made it with salted butter, because it was all I had, left over from a purchasing mistake (I NEVER buy salted butter), and I was lazy. Don't do that. You can really taste it. I belted the butter and chocolate together in the microwave by placing them in a large bowl, microwaving on high for 15 seconds, stirring, and repeating about 3 or 4 times until just melted. And finally, the batter really will get thick once you add the flour, even though it seems so runny beforehand. Also, instead of using Elizabeth's cupcake wrapper method, I used silicone cupcake cups, which I sprayed with nonstick cooking spray and lightly floured. After removing the cakes from the oven, I let them sit 2 minutes, and unmolded them with absolute ease.
Artichokes Vinaigrette
serves 4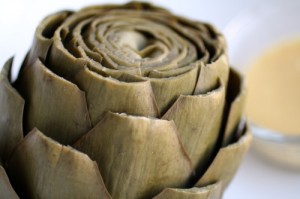 Artichokes


4 artichokes


A pot full of water


1/2 cup white wine


tablespoon flour


salt


Vinaigrette


1/4 cup Dijon mustard


1/4 cup white wine vinegar


salt and pepper


1 to 2 teaspoons finely chopped shallot


2 teaspoons honey


1/2 cup light olive oil


Procedure


First, busy yourself trimming the artichokes. Holding the globe down on the counter, force all your weight onto the overhanging stem so that it snaps off—this is better than cutting because it removes tough fibers from the heart. And it allows the artichoke to sit up on the plate with excellent posture. But, secretly, I love the stems, so I run a paring knife around them to cut off the tough skin and the ends, and I throw them in the pot as well.


Next, take a serrated knife and cut off the top of the artichoke where all the top leaves meet. Then, take kitchen shears and snip the sharp tip off all the remaining leaves. Intricate, but easy enough, and you're done.


Put the artichokes and the stems in the water, wine, and flour mixture. Weigh the artichokes down with a plate so they are fully submerged in the water. Cover, and bring to a boil. Add a handful of salt, reduce the heat to a simmer, and cover mostly, leaving a bit of room for steam to escape, or the pot will probably boil over.


Once the water has boiled, simmer for an additional 45 minutes to one hour, or until the leaves come off easily, and are tender enough to eat.


Meanwhile, make the vinaigrette by whisking together all the ingredients except the oil. Then, add the oil a little bit at a time, and whisk to emulsify. I find that using a small whisk really helps the emulsification process.


When the artichokes are tender, remove them gently from the water, and sit them in a bowl upside down. This will allow any excess water to drain away from the flesh of the artichoke.


Refrigerate until cool. Serve with the vinaigrette.


print this recipe