Get the whole story at Serious Eats.
The sesame is a flowering plant grown in tropical regions. From the plant hang pods which house the tiny seeds we know and love. In my quest for sesame knowledge, I came across many an ancient legend surrounding the sesame seed, but from all sources, it seems the most revered sesame output is sesame oil.
The oil comes in two varieties, so disparate it seems unfair the only distinguishing factor is the "toasted" scribbled on the label of one variety and not the other. Bringing home the wrong sesame oil can be a great disappointment, as only the burnished amber toasted variety has the smoky, nutty aroma and flavor so distinctive to Asian cuisine.
This recipe for Seared Sesame Tenderloin Skewers uses sesame two ways. Toasted sesame oil infuses the beef as it marinates with tamari, ponzu, and mirin, and also anoints the sauce with its inimitable scent and flavor. The cubes of tender beef are also crusted in dappled white and black sesame seeds for crunch. The result is an appetizer that is nutty, smoky, spicy, salty, and sweet. The sesame, which looks good in so many different hats, wears all of them here.
Sesame Tenderloin Skewers with Asian Dipping Sauce
serves 4 as an amuse bouche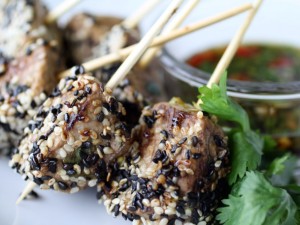 Ingredients


1/4 cup tamari


1/4 cup ponzu


2 tablespoons toasted sesame oil


Small splash of mirin


1 teaspoon grated fresh ginger


1 clove garlic, grated


2 tablespoons fresh cilantro, chopped


2 scallions, thinly sliced


Chopped fresh chili to taste


3/4 pound beef tenderloin, cut into 1- to 1 1/2-inch cubes


1/4 cup white sesame seeds


1/4 cup black sesame seeds


Procedure
Begin by making the sauce/marinade.  Whisk together the tamari, ponzu, toasted sesame oil, mirin, ginger, garlic, cilantro, scallions and chili.  Divide the mixture in half.  Place one half in a large Ziploc bag, and the other half in a serving bowl.
Add the beef to the Ziploc bag, and seal.  Massage the marinade into the beef.  Refrigerate for 1 to 2 hours.
Meanwhile, soak 8 3- or 5-inch bamboo skewers in water for at least 30 minutes.
Preheat your grill pan over medium-high heat.
Mix the sesame seeds together in a pie dish.
Remove the meat from the marinade, and discard the marinade.  Thread 2 cubes onto each skewer.
Dredge the meat in the black and white sesame seeds, covering them on all sides, pressing them into the meat if necessary.  Grill 1 to 2 minutes on each of the four sides of the meat.  Serve with the reserved sauce.
print this recipe