Get the whole story at Serious Eats.
Key lime pie is this Florida girl's favorite dessert. This granita version is slightly less guilt-inducing. It starts with yellow jade key lime juice, super tart, with vanilla sugar and cream for a little key lime pie something. A shot of vodka doesn't hurt.
This recipe is super tart, like a lime FrozeFruit popsicle. If you like it less strident, decrease the amount of lime juice and up the proportion of water, or add a bit more vanilla sugar to your taste.
Key Lime Granita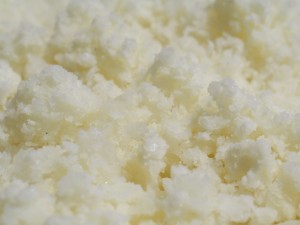 Ingredients


1 cup key lime juice (more or less to taste)


1 cup water


1/4 cup vodka


1/4 cup vanilla sugar (more or less to taste)


1/2 cup heavy cream


Procedure
Bring the key lime juice, water, and vodka to a boil, and add the vanilla sugar.  You could add the vodka later if you wanted to keep the alcohol content.  Once the sugar has dissolved, take the mixture off the stove to cool.
Add the cream (and the vodka if you want to retain the alcohol) and decant into a brownie baking dish.  Place in the freezer, and scrape with a fork once an hour for 4 hours or until flakey and frozen in little key lime pie crystals.
print this recipe