Gazpacho is a cold Spanish soup, popular, of course, in summer for its temperature, as well as its peak-season ingredients. I once read that Flamenco dancers eat Gazpacho to stay slim–not a bad recommendation. I top off this version with crab, a seasonal seafood gem.
This is not only a challenge to the BBC folk! If you want to take the seasonal Gazpacho challenge, try this recipe, and post a comment about it. Try varieties: replace some tomatoes with watermelon, add chili peppers, or replace the bell pepper with roasted peppers. Vary the herbs, substituting some of the parsley for mint or tarragon. Or replace the crab with goat cheese, or crème fraîche. Bonne chance! I look forward to hearing what you think, and what you come up with.
Gazpacho with Crab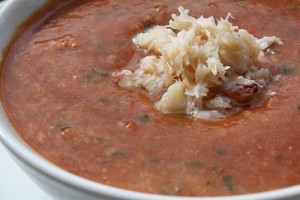 INGREDIENTS


1 kg (10 tomatoes, 2.25 lb) vine-ripened tomatoes


1 English cucumber, seeded


1 bell pepper (orange, yellow, or red, seeded)


1/2 yellow onion


1/4 to 1/3 fresh head of sprouting garlic (or 2 cloves regular garlic)


1 20g package flat leaf parsley, stems torn off


2 cups tomato juice


1/2 cup olive oil


5 tbs cider vinegar


1/2 cup fresh bread crumbs


100g white crab meat


PROCEDURE


To make fresh bread crumbs, obliterate some good white bread in a blender, until you have a rubble. These keep very well in the freezer in a sealed plastic bag.


Take the bread crumbs out of the blender, and set aside. To seed a tomato, quarter it, and squeeze it over a bowl. The seeds will drop out. To seed a cucumber, split it in half lengthwise, and use a spoon to tunnel out the seeds.


Roughly chop the tomatoes, cucumber, bell pepper, onion, garlic, and parsley. Put the vegetables in the blender with the tomato juice, olive oil, vinegar, and salt and pepper to taste. Blend to a soup consistency.


Add the fresh crumbs to the blender and pulse to combine.


Decant the soup and refrigerate until ready to serve. Top with crab once spooned into a bowl.


print this recipe