Galette is what I like to call pie for dummies (like me). The crust is folded free-form around a nest of sweet summer blueberries. Too easy to be so good.
Blueberry Galette
per person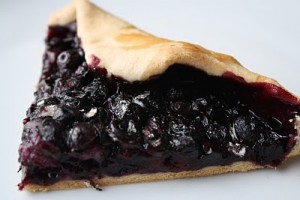 INGREDIENTS


1 250-g short crust, rolled into a round


1/4-inch thick


400 grams blueberries


3 tablespoons flour


1/4 to 1/2 cup sugar


Pinch of salt


Milk for washing the crust


PROCEDURE


Stir the blueberries together with the sugar and pinch of salt.


Preheat the oven to 175 degrees C.


Roll out the dough, and place it on a baking sheet.


Add the flour to the blueberries, and thoroughly mix.


Mound the blueberries in the center of the dough, and fold up the edges to make a sort of open-centered pie.


Use a pastry brush to brush the exposed crust with milk.


Bake for about 1 hour to 1 hour and 15 minutes. The crust should be golden, and the blueberries bubbling.


print this recipe