This is a recipe I've been making for years! Combine a simple basil pistou with fresh bread crumbs, and pack it onto a rack of lamb. Roast for a glam, but easy and traditional, dinner party center piece.
Basil Pesto Crusted Rack of Lamb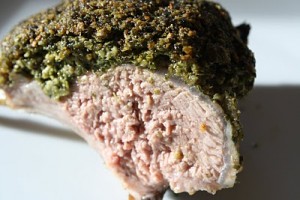 INGREDIENTS


2 cloves garlic


1 large package of basil, stems torn off (about 80 g)


1/4 cup toasted pine nuts


6 tablespoons extra virgin olive oil


1 cup fresh bread crumbs


500 g rack of lamb, Frenched


PROCEDURE


Preheat the oven to 200 degrees C.


Make the pesto by blitzing together the garlic, basil, pine nuts, and olive oil in the food processor. Season with salt and pepper.


Pulse the bread crumbs into the pesto to make a paste.


Season the lamb with salt and pepper. Place it on a baking sheet drizzled with olive oil.


Pack the pesto paste onto the lamb.


Roast for about 30 minutes (63 degrees C)


*Note: the lamb in the above photo was made for someone who likes lamb well done, and was roasted for nearly 40 minutes.
print this recipe