Seasonal eating is not just about produce: meats, seafood, even cheeses also have their peak seasons. This is a composed dish of seasonal products that can easily be deconstructed and made on three separate occasions. The potatoes, for instance, are an accomplishment in cheap and delicious simplicity and seasonality all by themselves. Together, they are a smash summertime dinner dish.
Seared Halibut with Vegetable Crisps and Olive Oil Smashed New Potatoes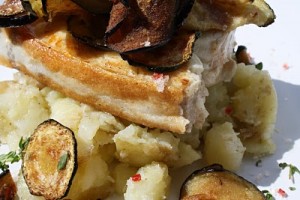 For the Crisps:


1 aubergine/eggplant, cut paper thin


1 courgette/zucchini, cut paper thin


2 to 4 tablespoons flour


1/2 red chili, finely minced


6 sprigs fresh thyme, leaves reserved


2 teaspoons Maldon salt


Vegetable oil for frying




Heat the vegetable oil to 175 degrees C.


Toss the vegetable crisps with flour, and dust off the excess.


Fry in batches until very golden and crisp.


Remove to drain on paper towel.


Sprinkle with the salt, thyme, and chili.


Mound on top of the fish.


For the Fish:


750 grams halibut, steaks or fillets, skin on


2 tablespoons olive oil


Lemon wedges for serving




Season the fish with salt and pepper.


Heat the oil on medium-high heat.


Sear the fish 4 minutes per side.


For the Olive Oil Smashed New Potatoes:


750 grams new potatoes


1/4 cup olive oil




Quarter the potatoes, and put them in a large pot of cold water. Cover, and bring to a boil. Salt the water.


Cook the potatoes until they are fork tender. Drain, and return to the hot pot.


Add the olive oil to the potatoes and smash lightly. Season with salt and pepper.


print this recipe