Get the whole story at Serious Eats.
Jambon-Wrapped Grilled Endive
serves 3 to 4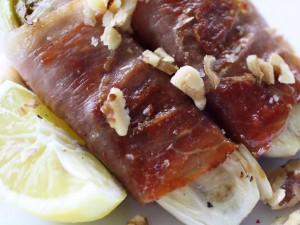 Ingredients


3 Belgian endive, halved longwise


Salt and freshly cracked black pepper


Extra virgin olive oil, for serving and grilling


3 ounces (6 slices) Jambon de Bayonne or Prosciutto


Toasted walnut halves, for garnish


Lemon wedges, for serving


Procedure


Preheat a grill pan on medium.


Drizzle each endive half lightly with olive oil and season with salt and pepper. Wrap each half in one slice of ham.


Grill the endive 5 minutes per side, until the endive starts to become tender and the ham crisp.


Drizzle the warm endive with olive oil, and serve with walnut halves. Squeeze lemon wedges and serve right away.


print this recipe