Get the whole story at Serious Eats.
Za'atar, to me, is perfectly exotic. Despite the fact that my Moroccan grandmother came over to taste these recipes, and scoffed "Za'atar!" in her perfect Arabic accent, as if she was shocked someone couldnot know about za'atar. That was then followed it by, "I don't like it." (She usually gives better advice.)
Za'atar, as with most Arabian and North African spice blends, comes in many iterations: maybe as many as there are grandmothers cooking in the area today. The one that I used (and that I believe to be most commonly sold in the US) is the Lebanese version, and contains the combination of dried thyme, white sesame seeds, salt, and sumac all in the same jar. Thus, the resulting combination is complex, with notes of salinity, nuttiness, astringence, and resin.
It is often brushed onto pita after a brash coating of olive oil and then grilled, much like a temptingflatbread I saw Tyler Florence create out of Za'atar and pizza dough. This recipe coats salmon in the blend for a Middle Eastern kebab, served with a simple lemon yogurt sauce.
Za'atar Salmon Kebabs
serves 2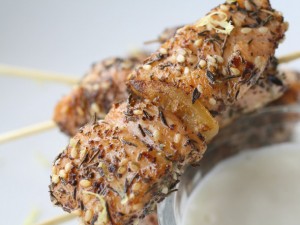 Ingredients


5 ounces boneless, skinless salmon fillet, cut into 1-inch cubes (about 8 pieces)


2 teaspoons za'atar


1 to 2 tablespoons light olive oil in the pan


1/2 preserved lemon


1/4 cup plain yogurt


Special Equipment
Short bamboo skewers (3 inch), soaked in water for 30 minutes
Procedure
Season the salmon with the za'atar.
Thread the salmon on the skewers, 2 cubes per skewer.
Heat a skillet on medium high heat.  Add the oil, and sear the salmon 1 minutes on each of the 4 sides.
Meanwhile, blend together the preserved lemon and yogurt in the food processor.  Serve the salmon brochette with the sauce.
print this recipe