Get the whole story at Serious Eats.
Mexican chorizo, as opposed to Spanish, is raw, and can be bought in sausage links, or just in a package (pictured in the procedure) as ready-ground sausage meat. I tend to do unorthodox things with my secret ingredients, and I thought a chorizo burger might be the perfect American makeover for chorizo. Of course, as chorizo is pork, that means you have to cook it all the way through. I combine it with ground beef, and melt Cordobes or Manchego over the top, and crown with a cool slaw stained with the smoked paprika in the chorizo. The bun soaks up all that delicious chorizo oil. A summer grilling holiday.
Chorizo Burgers with Manchego and Paprika Slaw
serves 2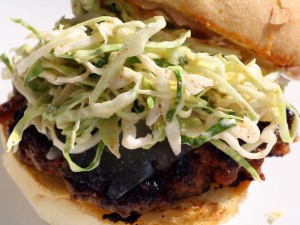 Ingredients


1/2 pound ground beef


1/3 pound fresh (Mexican) chorizo


1 tablespoon olive oil


1/8 pound Cordobes or Manchego


1 cup shredded green cabbage


1 1/2 tablespoons mayonnaise


1/2 teaspoon smoked paprika


1 clove garlic, grated


1 scallion, finely sliced


Juice and zest of 1/2 lemon


2 big white, crusty rolls


Procedure
Preheat a grill pan on medium-high heat.
Meanwhile, use your hand to gently just combine the beef and chorizo meat.  Season with salt and pepper, and divide and shape into two hamburger patties.  Rub the outside with the olive oil, and place on the hot grill.  Cook 6 to 8 minutes per side.  Once you flip the burger, place slices of cheese on top to melt.
Meanwhile, make the smoky paprika slaw by tossing the cabbage with the mayo, paprika, garlic, scallion, and lemon juice and zest.
Slice the rolls in half horizontally, and place on the grill cut-side-down for 1 to 2 minutes.  Then, build the burger by piling the bun with the burger and its melted cheese, and the slaw.
print this recipe