Read the full article at The Huffington Post.
Some people say home is where the heart is. I say home is where my stomach wishes it were, right now.
This recipe is for the days when you realize it is a mad, mad, mad, mad world. Or, at least, a cold one. For the days when you need some insulation, be it from a brusque boss or a brisk wind, and a time machine back to your mother's couch and a bowlful of whatever it was she was serving. With every cup of tea she poured came a healthy side of sympathy. Sympathy is not something the New York supermarkets seem to be stocking these days. It must not be in season. Or maybe there's a blight.
To me, home cooking, where-the-heart-is cooking, should be burnt and bubbling. I personally find cream as consoling as a puffy down pillow, and melting, oozing cheese on the same level of comfort as a cashmere blanket. It's funny how the barest necessities, like warmth, can be made so luxurious.
This recipe is a hybrid between our American classic mac-and-cheese, and a French favorite: potatoes au gratin, a match inspired by my own maman who boils noodles in milk and butter until they became a porridge. So good! But that's another recipe. Make a simple béchamel with sharp American white cheddar and top-of-the-crock Gruyère, and a secret touch of Dijon mustard. Stir in some macaroni (shells or elbows or whatever your mom used growing up), and bake in heavy dishes filled to the brim with half-and-half until they are bubbling cauldrons that will whisk you home–wherever that may be–in one bite. Bon app.
Mac and Cheese Gratin
serves 6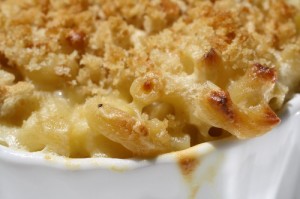 INGREDIENTS
1 pound elbow macaroni, cooked shy of all dente in boiling, salted water

3 tablespoons unsalted butter

3 tablespoons all purpose flour

3 cups milk

1 teaspoon Dijon mustard

1/3 pound shredded sharp white cheddar

1/3 pound shredded Gruyère (4 cups of cheese total)

1 cup half and half

1 cup fresh baguette crumbs (optional)

1 additional tablespoon butter, room temperature (optional)
PROCEDURE


Preheat the oven to 375 degrees F.


In a saucepot, melt the 3 tablespoons of butter, and stir in the flour. Cook on medium-low heat until the roux bubbles and begins to smell like baking cookies.


Slowly whisk in the cold milk, avoiding any lumps. Cook on medium to medium-high heat until the sauce has thickened enough that if you dip a spoon it in and run your finger through the sauce on the back of the spoon, the sauce stays separated and your finger leaves a stripe.


Add in the cheese and Dijon mustard. Pour the cheese sauce over the macaroni, and thoroughly toss. Season with salt and pepper to taste.


Divide the mixture between 6 buttered gratin dishes. Pour the half and half over the pasta mixture, dividing it between the 6 gratin dishes.


If you want a breadcrumb topping, use your fingers to work together 1 cup of fresh crumbs and 1 tablespoon of soft butter. Scatter over the top of the gratin dishes.


Place the gratin dishes on a baking tray, and bake for 40 to 45 minutes, until bubbly and golden brown.


print this recipe