Read the full article at The Huffington Post.
People always say "you're chicken" like it's a bad thing. You don't need to be bold and brave all the time. Lunch, I think, is an especially perfect time to lack courage. I like to save the habaneros and the escargot, the durian and the sea urchin for dinner, when I have finished my day and can siphon all of my time and my energy to tackling my plate, steak knife-sword in hand, and bravely eat what no girl has eaten before.
But at lunch, sandwiched between two halves of a hectic day, I don't want a challenge. I want something familiar, and inexpensive, and perhaps a bit virtuous. Don't forget, it was Clark Kent who went to the office–not Superman.
This recipe is a traditional American chicken salad made French with the important addition of tarragon, an herb so common in the French kitchen that where I buy my tarragon, the box reads "French tarragon." It tastes like basil and anise together, and is delicate and fragrant, and the perfect partner for anything creamy. What I love about this recipe is that it is made from leftovers. I say to use rotisserie chicken, but you can also use any roasted or poached chicken you have hiding in the fridge. I pack up this chicken salad with a long slice of good wheat or sourdough bread, and pile it up on top. Eating this sandwich open-faced, as a tartine, makes me feel good at once because I imagine I am having it at Les Deux Magots on the Boulevard Saint-Germain, and because I save the calories from phantom slice of bread I'm not eating.
I've reduced my lunchtime expenditure, reused my leftover chicken, and recycled an old idiom. I would say being chicken is actually pretty good. Bon app.
Tarragon Chicken Salad Tartines
serves 4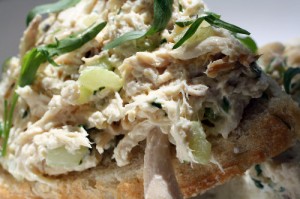 INGREDIENTS


2 celery heart ribs, finely diced


2 tablespoons chopped fresh tarragon leaves


Zest of 1/2 lemon


1 tablespoon lemon juice


1/4 cup mayonnaise


3 tablespoons crème fraîche


2 tablespoons milk


The breasts from 1 bought rotisserie chicken, skin removed, and flesh shredded (see note #1)


4 slices of good sourdough bread


PROCEDURE
1. In a large bowl whisk together all the ingredients besides the chicken and bread. Season with salt and pepper to taste.

2. Lightly toss the shredded chicken with the dressing.

3. Arrange the chicken salad open-faced onto the sourdough bread.
NOTES
1. Do replace the rotisserie chicken with leftover chicken you already have in the fridge.
print this recipe