Green Tapenade Pasta Salad
serves 4 to 6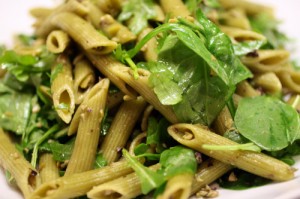 Ingredients


1 pound green (spinach) penne


1 clove garlic


1 cup pitted Picholine and Niçoise olives (I like to use mostly green Picholine, with a few black Niçoise for contract and color)


1 tablespoon capers


4 anchovy fillets, packed in olive oil


The leaves from 2 stems fresh thyme


Zest and juice of 1 lemon


1/4 cup olive oil


Freshly cracked black pepper


2 cups combined baby spinach and baby arugula leaves, lightly chopped


Procedure
Cook the penne until al dente in salted boiling water.


Meanwhile, decimate the garlic clove in the food processor. When it is in a million pieces, add the olives, capers, anchovy, and thyme to the food processor and pulse to a rubble. Add the lemon zest and juice and olive oil and black pepper. Pulse a bit more. You want the sauce to be slightly chunky.
Drain the pasta well, and toss with the tapenade. Allow to cool to room temperature, then toss in the spinach and arugula.