Get the whole story at Serious Eats.
Sweet potatoes are sweet. But they could be sweeter. We Americans, after all, do have an obsession with sweetening sweet potatoes: marshmallows on Thanksgiving, or a coat of brown sugar baked over top. Pretty amazing.
This recipe is a simple whipped sweet potato, flavored with nothing but butter, maple syrup, and grain mustard. The combination is a sweet, but slightly spicy and savory one. This recipe takes almost no effort, and even fewer ingredients, but the resulting dish is really decadent, and simply delicious. I am definitely serving this at Thanksgiving this year, although I think it also makes an excellent accompaniment to last week's Maple Ribs.
Maple Mashed Sweet Potatoes
serves 4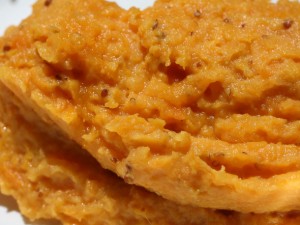 Ingredients


2 pounds (approx. 3) sweet potatoes, peeled and cut into chunks


2 tablespoons butter


1/2 cup half and half


1 1/2 tablespoons maple syrup


1 tablespoon grain mustard


Salt and pepper


Procedure
Boil the potatoes in salted water until fork tender.  Drain, and return to the dry hot pot to remove extra moisture.
Meanwhile, heat the butter and half and half in a small sauce pot.
Press the sweet potatoes through a ricer and into their original pot.  Stir in the hot butter and half and half mixture, along with the maple syrup and mustard.  Season with salt and pepper to taste.
print this recipe