Get the whole story at Serious Eats.
If I had to create an analogy out of sweetness and saltiness, it would be that sweet is to salty as maple syrup is to soy sauce. Though they are on opposite sides of the sweet-salty spectrum, there is something similar in maple syrup and soy sauce. Perhaps it is something in their color that gives them their depth of flavor, but I find a kind of resiny smokiness in them both—and thought it was about time I tried them together.
I marinate the salmon fillets in a simple sauce of maple syrup, shoyu (Japanese soy sauce), ginger, garlic, chili, and cilantro. Then, I quickly broil the fillets, while I reduce the marinade to a thick, syrupy glaze. I love the contrast of the sweet and salty, and also the American and Asian influences. It's a dish that's complex-tasting but simple to make, for something a bit out of the box—or bottle—when it comes to maple syrup.
Maple Soy-Glazed Salmon with Garlic and Ginger
serves 4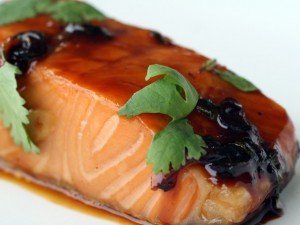 Ingredients


3 cloves garlic, sliced


1 serrano chili, sliced


4 teaspoons slivered fresh ginger


4 teaspoons cilantro leaves, roughly chopped


1/2 cup shoyu or soy sauce


1/2 cup water


4 teaspoons maple syrup


4 6-ounce filets salmon


Procedure
Combine all the ingredients but the salmon in a large Ziploc bag and whisk together.  Add the salmon, and marinate for 1 hour in the refrigerator.
Preheat the broiler.
Remove the salmon from the marinade and arrange on a foil-lined baking sheet sprayed with cooking spray.  Broil for 6 to 8 minutes.
Meanwhile, boil the marinade until it is reduce to 1/4 cup.
Smother the salmon filets with the glaze.
print this recipe