Get the whole story at The Huffington Post.
Halloween is all about putting on airs. Whether you dress kittenish or devilish, you, and everyone else, are dressing up, not down.
Franglais means taking French flavors and American preparations, or American flavors and French preparations, and mashing them up into something delicious. And when I put American flavors into a French preparation, I have to admit that, like on Halloween, I am dressing them way up.
The all-American flavor duet of peanut butter and chocolate is to die for. Who doesn't love a Reese's peanut butter cup? I don't know if there was a Mr. Reese, or if he did invent the magic of peanut butter and chocolate, but whoever it was, he was a visionary.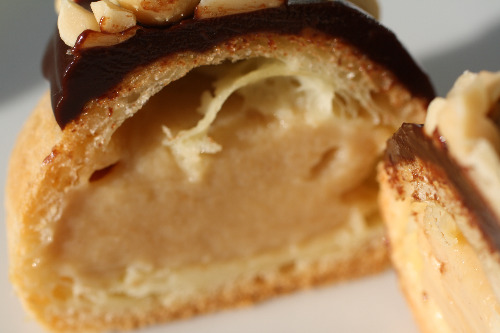 Even Halloween favorites deserve to dress up for Halloween, or for any other night (I ate three of these profiteroles myself last night, and it was no special occasion). These profiteroles take the classic French dish of cream puffs drowned in chocolate to a new all-American level. A sweet peanut butter pastry cream is stuffed into homemade or store-bought creampuff shells, which are bathed in melted chocolate and crowned with chopped peanuts. A dressed up Reese's cup, one bite brings an explosion of cool, creamy peanut butter and a mess of soft chocolate in one very elegant package.
Whether you make the creampuff shells yourself, or you buy them, this recipe is super easy to execute. A peanut butter cup in costume, but still peanut butter and chocolate at heart. Looks like Halloween just grew up. Bon app!
Peanut Butter Cup Profiteroles
makes 18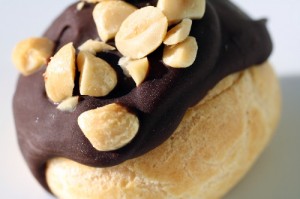 To Assemble
Use a serrated knife to slice the top quarter of each creampuff (recipe #1 follows) off, leaving a little hinge. Use your finger to push aside some of the innards of the cream puff, and spoon in the peanut butter pastry cream (recipe #2 follows) to fill. Replace the lid of the cream puff. Arrange the cream puffs on a wire rack over a baking sheet, and spoon some chocolate sauce (recipe #3 follows) over the top. Sprinkle with chopped peanuts, and refrigerate for 1 hour to set. Take out of the fridge a few minutes before serving.
RECIPE #1: Creampuff Shells (or just buy 18)
INGREDIENTS


½ cup water


½ stick (4 tablespoons) unsalted butter


1 tablespoon granulated sugar


⅛ teaspoon fine sea salt


½ cup unbleached all-purpose flour


2 eggs


PROCEDURE
1. Preheat the oven to 400°F.

2. In a medium saucepot, place the water, butter, sugar, and salt. Cover, and bring to a boil. 

3. As soon as the water boils and the butter completely melts, take pot off heat, and add flour all at once. Stir well with a wooden spoon.

4. Return the pot to medium-low heat, and stir for 30 seconds, until dough forms a ball and comes away from the sides of the pot.

5. Turn the dough out into a bowl, and add 1 egg at a time, stirring vigorously and quickly to incorporate the egg into the dough. At the end, the dough will be thick and sticky.

6. Use a small ice cream scoop to drop balls of the choux pastry onto a Silpat- or parchment-lined rimmed baking sheet, leaving some space between the balls for them to puff up. Dip your finger in water and press down any spikes in the dough that might burn.

7. Bake for 10 minutes at 400°F, then reduce the heat to 350° and bake another 30 minutes.

8. Pierce the bottom of the creampuff shells with a metal skewer or trussing needle to create a vent for the steam as they cool, to keep the shells crisp. Cool completely on a wire rack.
RECIPE #2: Peanut Butter Pastry Cream
INGREDIENTS


1 cup whole milk


4 egg yolks


⅓ cup sugar


2 tablespoons unbleached all-purpose flour


¼ cup smooth peanut butter


PROCEDURE
1. In a medium saucepot, heat milk over medium heat.

2. In a large bowl, whisk together yolks, sugar, and flour until combined. Add the peanut butter, and whisk in.

3. Slowly add milk, a bit at a time, and whisk quickly into the egg yolk mixture. Once all the milk and yolks are mixed, return the mixture to the saucepot, and cook over medium-heat, whisking continuously, for about 4 minutes, until the cream is thick.

4. If you like, press the pastry cream through a sieve. Or skip that step if your cream is smooth. Put the cream in a small bowl, and cover with plastic wrap, with the plastic touching the top of the cream to prevent a skin. Chill for 2 hours.



RECIPE #3: Chocolate Sauce
INGREDIENTS


1 cup semi-sweet or milk chocolate chips


1/4 cup heavy cream


PROCEDURE
1. Place a bowl over a pot of simmering water, so that the bottom of the bowl touches the steam, but not the water.

2. Place the chocolate and cream in the bowl, and whisk occasionally until just melted and smooth.
print this recipe