Read the full article on The Huffington Post.
It's true: these are glorified pigs in a blanket.
But, there's nothing wrong with elevating the basic. To me, that's what fall is all about. The average lazy Sunday becomes an occasion to have everyone over to watch the big game. The usual Friday girl get-together becomes an annual Secret Santa, and a walk in the park is suddenly bedazzled in a million vibrant colors. It's like everyone takes the season as an immediate signal to dress up, eat a lot, and throw a party. Which is the perfect excuse to pass on the hot dogs and crescent dough and spring for the handmade sausages and puff pastry.
I can't imagine a situation in which these wouldn't be apropos. They are enough like the original pig in a blanket to be a kitschy, nostalgic throwback to holiday parties of yore, but enough of a modern renovation to just be plain delicious. I use any kind of good quality fresh sausage flavored with something sweet, like Vidalia onion, fennel, or apple. Then, instead of relish or sauerkraut, I caramelize onions and fresh fennel to a jam. Nothing goes with pork so well as fresh fennel, which adds both freshness and sweetness. Dijon mustard lines the inside of the blanket with spice and tang, the sausage adds that meaty, delightfully greasy snap, the onions and fennel are soft and sweet, and the puff pastry is decadent and crisp. Fennel seeds are the crowning jewels. I serve them whole, or, more often, slice them into bites.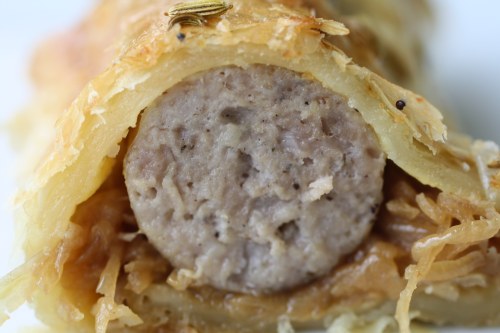 The newly cold weather is always an excuse for something a bit comforting, party or not. There's nothing I like better than curling up on a couch on a cold night under a big duvet imported from the bedroom, sitting in front of the TV devouring little snacks like these. Which, I know, makes me just as much a glorified pig in a blanket as the food! So be it. Bon app.
Sausage and Fennel en Croûte
serves 4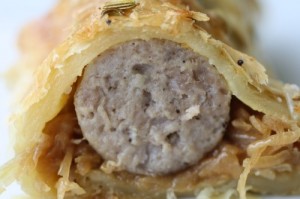 INGREDIENTS


4 sausages (about 1 pound total)


1 tablespoon vegetable oil


2 medium yellow onions, sliced ⅛-inch thin on a mandonline


½ fennel, sliced ⅛-inch thin on a mandonline


2 sheets frozen puff pastry, thawed but cold


4 teaspoons Dijon mustard


1 eggs whisked for egg wash


Fennel seeds for garnish


PROCEDURE
1. Preheat the oven to 400°F.
2. Pierce the sausages and cook on a parchment-lined rimmed baking sheet for 30 minutes, turning once. Allow to cool completely.
3. Meanwhile, caramelized the onions and fennel. Heat the oil in a sauté pan until just shy of shimmering, and add the onions and fennel. Season lightly with salt and pepper, and sauté on medium-low heat for 10 to 12 minutes, until soft and golden, adding a tablespoon of water as needed when the bottom of the pan begins to get too brown. Set aside to cool.
4. Place a sausage parallel to the side of the puff pastry, about 1 inch in. You can trim the pastry slightly to allow the edges of the sausage to peek out. Smear the pastry with 1 teaspoon Dijon mustard per sausage, just where the sausage is. Arrange some of the onion-fennel mixture all along the sausage like sauerkraut. Then, roll the pastry around the sausage far enough so that the ends overlap. Trim the package away from the rest of the puff pastry, and begin again for the next sausage.
5. Brush all the tops of the puff pastry packages with egg wash, and sprinkle lightly with fennel seeds. Bake, seam-side-down, on a parchment-lined rimmed baking sheet at 400°F for 25 to 30 minutes, until puffed and golden. Serve immediately.
print this recipe