Get the whole story at Serious Eats.
When we were in our senior year in college, my friends and I were given a small room in the basement of the library. Five of us kept our books and computers there and subsisted on nothing but chocolate-covered espresso beans, to sustain us through the long nights in the bowels of the earth. I've never forgotten to be thankful for them!
Here, I add a touch of coffee to the chocolate itself, and stud the chocolate with chocolate-covered espresso beans. There's no sleeping after this! Consider yourself warned. You may be more productive than you ever thought possible.
Dark Chocolate Espresso Bean Bark
serves 6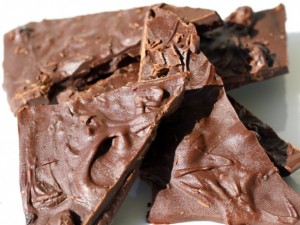 Ingredients


10 ounces plus 2 ounces dark chocolate (semi-sweet chocolate chips)


1/4 teaspoon instant espresso powder


3/4 cup (1 4.3-ounce package) dark chocolate-covered espresso beans, roughly chopped


Procedure
Melt 10 ounces of chocolate in a double boiler over simmering water, stirring often, until smooth.  Whisk in instant espresso powder.  Pour onto a baking sheet with a rim lined with parchment paper to form a 7-inch by 10-inch rectangle of chocolate.
Place the bowl back on the double boiler, and add the remaining 2 ounces chocolate.
Press the chopped espresso beans gently into the rectangle of chocolate on the parchment.  Pour the remaining 2 ounces melted chocolate over the top, spreading evenly with silicone spatula.  Allow to sit in the fridge to harden for 2 hours.  Break into shards with hands.
print this recipe