Get the whole story at The Huffington Post.
Thanksgiving is nothing if not nostalgic. And the only food in the world to have nostalgia as a first ingredient is Proust's madeleine. While holding onto Thanksgiving leftovers may seem like an unhealthy obsession with the past, think twice before throwing them out. You never know where they might come in useful.
Cranberry sauce is something of which I always end up with extra. It doesn't feel like Thanksgiving without it, but most of my family doesn't eat it. But, I don't have to throw it away. Cranberry sauce can be reincarnated Friday morning as a tangy fresh jam, next to some beautiful shell-shaped, orange-scented madeleines. They look impressive, and of course, very French, but they are so easy to make, and if you don't want to buy a madeleine pan, just use a mini-muffin tin. Toss a few pantry staples together, throw it in an oven to 12 minutes, and voilà, a very delicious and glamorous breakfast, with some fresh, rubied, delicious cranberry "preserves" on the side. I doubt anyone will even recognize it.
Orange Madeleines
makes 22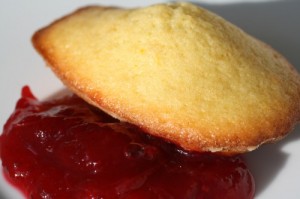 INGREDIENTS


3 eggs


½ cup granulated sugar


¼ teaspoon fine sea salt


Zest of 1 orange


1 teaspoon Grand Marnier (optional)


1 stick unsalted butter, melted and cooled, plus extra for buttering molds


¾ cup all-purpose flour, plus extra for flouring molds


1 teaspoon baking powder


Leftover cranberry sauce, on the side


PROCEDURE
1. Preheat the oven to 375°F. Butter and flour two 12-madeleine madeleine pans.
2. Beat the eggs, sugar, salt together on medium speed for 1 to 2 minutes, or until pale and frothy. Add the orange zest, Grand Marnier, and butter, and mix.
3. Sift the flour and baking powder together. Stir into the egg mixture--do not over mix, but combine thoroughly.
4. Fill each mold with about 1 tablespoon batter.
5. Bake 12 to 14 minutes, until the madeleines are puffed, golden around the edges, and a toothpick inserted into the middle of a madeleine comes out clean. Leave to cool in the molds for 1 minute; then transfer to cool on a rack shell-side-up. Serve with leftover cranberry sauce (see Note #1).
NOTES
1. I make a simple cranberry sauce: 1 cup water, ½ cup sugar, juice and zest of ½ orange, pinch of salt, and 1 12-ounce bag fresh cranberries. Dump it all in a saucepot, bring to a boil over high heat, then lower the heat to medium-low and cook 10 to 20 minutes, until all the cranberries have burst. Stir often. Allow to come to room temperature.
print this recipe