Get the whole story at Serious Eats.
I suppose my "easy-omelet" is somewhere between an omelet and a quiche. No crust, but baked in the oven until fluffy. The flavors are simple: buttery zucchini, fresh mint, and soft, tangy goat cheese. You could swap out the mint for basil, parsley, or thyme and choose asparagus or even cooked autumn squash in place of the zucchini. Then, all you need is eggs and milk and, as if by some miracle, the whole thing cooks up into a dish that is beautiful and rustic, fluffy and golden. A one-pot wonder!
Easy-Omelet With Zucchini, Goat Cheese, And Mint
serves 4 to 6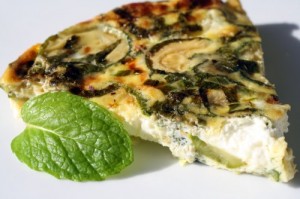 INGREDIENTS


1 tablespoon unsalted butter


3 medium zucchini, sliced 1/4-inch thick


Fine sea salt


Freshly cracked black pepper


8 large eggs


1/2 cup milk


15 leaves fresh mint, chiffonade


4 ounces fresh chèvre (goat cheese)


PROCEDURE
Preheat oven to 350°F.
In a 9-inch sauté pan (not skillet), melt the butter over medium-low heat.  Add the zucchini and season with salt and pepper.  Lower the heat to low, and cover, stirring every so often until zucchini is tender, about 7 minutes.  Set aside to cool uncovered.
In a large bowl, whisk together eggs, milk, mint, salt, and pepper.
Crumble the goat cheese, and arrange on top of the zucchini in the same pot the zucchini has cooked.  Pour the egg mixture over the top, adjusting the zucchini with clean hands or a fork so they lie parallel to the bottom of the pan.
Bake 30 minutes until set.  Then broil about 7 minutes, until puffed, bubbling, and golden.  Cut into 6 wedges and serve immediately with chopped green pistachios as garnish.
print this recipe