Get the whole story at Serious Eats.
The mighty little cranberry continues to fascinate me the more I investigate into its background. Did you know that only 5% of cranberries are sold fresh? And from my perspective, I only see that 5% from November to December. So, we need recipes that use the other 95% of harvested cranberries that are turned into juices and sauces, and, as we use them in this recipe, dried cranberries.
Everyone knows Thanksgiving is really all about the sides. I usually wind up making more sides than there are guests at my table.
What I love about this braised rainbow chard is how festive it is. So many recipes call for us to discard the stems, but when they are ruby red and beautiful, I just can't bear the thought. They match the season and the cranberries in the dish, while adding a contrasting hearty texture, so I braise the stems first with garlic and onions and dried cranberries, and add the leaves just to wilt at the very last moment. The result is a sweet-savory combination that is healthy and delicious, and festive. It just looks like Thanksgiving, and is a light cornerstone to any overstocked plate. And if you're not making it on Thanksgiving, and want to jazz it up, I recommend crumbled over a touch of fresh goat cheese just before serving, to add creaminess and tang.
Braised Rainbow Chard with Cranberry
serves 6 on the side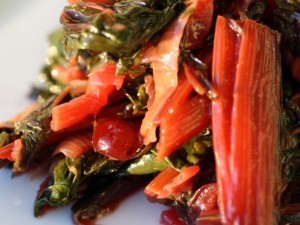 INGREDIENTS


28 ounces red-stemmed rainbow chard (2 bunches)


3 tablespoons olive oil, divided


1 medium yellow onions, sliced into half-moons 1/2-inch thick


1 to 2 tablespoons dried cranberries


1 clove garlic, peeled and lightly smashed


1/2 cup water


Fine sea salt


Freshly cracked black pepper


PROCEDURE
Prepare the chard by cutting the stem out of the center of each leaf.  Use either a knife, or two fingers pulling against the chard remove the stem from the leaf.  Trim the ends of each stem, and then cut on bias in 1 1/2-inch pieces.  Tear the leaves into 3 or 4 pieces each.
In a 9-inch braising pan, heat 2 tablespoons olive oil over medium heat.  When the oil just starts to shimmer, add the onion, and lower the heat to low.  Sweat 5 minutes until soft.  Add cranberries, chard stems only, garlic clove, and water.  Season with salt and pepper.  Cover, and braise on low for 30 minutes.
Once the chard stems are tender, remove the lid and raise the heat to high.  Add in the chard leaves, and use tongs to turn the leaves in the pan until just wilted, about 5 minutes.  Taste for seasoning and adjust as desired.  Serve hot, drizzled with remaining 1 tablespoon olive oil.
print this recipe